Crewsaver Plasma QR Trapeze Harness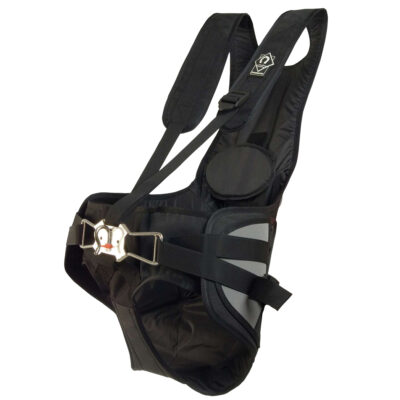 Many sailors are now opting for the reassurance provided by a harness with a built-in quick release hook. The innovative design of this versatile harness offers you just that, as well as plenty of adjusters for a snug fit plus an adjustable lumber support for comfort.
The Crewsaver Plasma QR Trapeze Harness is an entry-level nappy style harness.
Twin adjustable lumbar supports, with minimal webbing adjustments, also adjustable waist and shoulder straps deliver the correct posture on the wire. Padded shoulder straps and side panels ensure the Plasma provides an overall snug fit.
It has stiffened sides to help absorb shock loads from across the spreader bar and its 600 Denier Polyester construction, with shaped non-slip reinforced seat, makes this a very durable proposition.
The Plasma is available in four sizes from Junior to XL and in one colour, Black.
Crewsaver Plasma QR Trapeze Harness features
Versatile harness
Simple Quick Release system
Adjustable lumbar support
Lightweight
Spreader bar
For more information about and a full product range, please go to the official Crewsaver website: www.crewsaver.com