Crewsaver ErgoFit 190N Hammar Lifejackets SALE – 20% Off!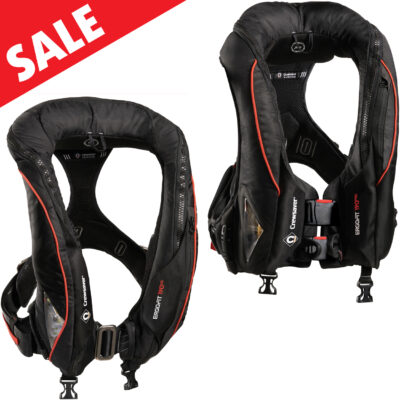 We have a couple of Crewsaver's ErgoFit 190N Hammar offshore lifejackets available at a reduced price. They are still brand new and packaged, it is just that the Hammar units will expire soon. One of the lifejackets also has a misty inspection window. Not too shabby for 20% off the usual price.
ErgoFit 190N Pro Hammar – was HK$2,195, now HK$1,756
As new, Hammar expires in 2022 and the inspection window is milky but intact. Hammar unit easily replaced.
ErgoFit 190N OS Hammar – was HK$2,695, now HK$2,156
As new, Hammar expires in 2020. Hammar unit easily replaced.
The 190N Series
The ErgoFit 190N lifejackets maintain all of the high specification safety features on the inside, while minimising features on the outside. A 3D-moulded lifejacket, with the advanced specification on the inside to excel for all coastal and offshore water users.
An intelligent cut-away profile allows you total mobility, leaving your body, limbs and hands unhindered and free to move and therefore work and perform. Easy to wear, versatile, stylish and completely functional. Ideally suited to racing, recreational users and the marine work environment alike.
Spray hood and light are already fitted, making this lifejacket perfect for offshore racing as well as adventurous cruising. Ideal for Racing from Hong Kong to Macau, Vietnam, China as well as the Philippines or further.
ErgoFit is Crewsaver's ultimate lifejacket collection. Launched in 2012 it has subsequently come to completely redefine style, comfort and most of all, safety afloat. The entire ErgoFit collection features an exceptionally high level of construction combined with the looks and practicality to suit the toughest marine environment as well as the most demanding consumer. Each lifejacket in the range contains a uniquely crafted bladder to deliver a faster turn speed while also to keep your airway lifted further above the water for ultimate safety.
ErgoFit 190N Hammar Highlights
ISO 12402-3 (150N) approved but with superior buoyancy (190N) to float you higher in the water
A built in inflatable chin support tilts your neck back and keeps your airways clear
Unique bladder distribution, providing turning solutions in less than three seconds
Innovative 3D shaping providing the ultimate in comfort and performance
Soft loop D-rings for attaching safety harness
Three-layer cover construction for extreme durability
Buckle system to enable easy donning
Easy to adjust side waist adjusters
AIS compatible, activates automatically on inflation
Pull cord for manual inflation if required, located on the right hand side of the lifejacket when worn. Neatly tucked away to prevent any accidental inflation whilst remaining easy to locate if required
Optional Extras:
Please refer to the Crewsaver website for more information about the lifejacket range and other products: www.crewsaver.co.uk