Clamcleat CL247 Compact Twin Sheave Cleat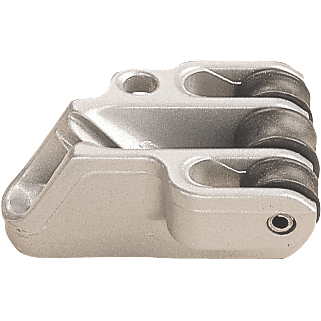 The Clamcleat CL247 is manufactured from high pressure die-cast aluminium to give a light weight as well as durable downhaul cleat. The rollers are manufactured from a composite plastic designed to withstand coral sand. It can also be fitted onto any mast extension using rivets or screws.
Provides a 6:1 advantage when used with a pulley block. The becket holds one end of the rope. Silver finish alloy with composite rollers.
You may also want to consider the CL250 as when tensioned it allows the sail to sit lower down the mast than the CL247.
Clamcleat CL247 Features
Countersunk fixing holes
Rope Size: 3-6mm
Material: Aluminium
Dimensions: 53 x 40mm
Hole Spacing: 31mm
Bolt Size: M5
Screw Size: 5mm
Weight: 40g
For full details of this as well as other products please go to the Clamcleat website here: www.clamcleat.com. For product pricing and stock availability please call +852 2827 5876 or contact us.