Clamcleat CL217 MK2 Side Entry Rope Cleat (Starboard)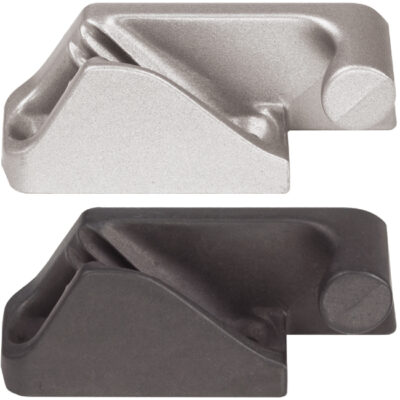 The side entry fairlead allows ropes to be hooked in for cleating, while easily removed. Available in silver or hard anodised finish.
A port version is also available – CL218 MK2.
Clamcleat CL217 MK2 Side Entry Features
Rope Size: 3mm – 6mm (1/8″ – 1/4″)

Material: Aluminium

Screw Size: 4.2mm Countersunk

Bolt Size: M4 Countersunk

Dimensions: 54mm x 18mm

Hole Centres: 27mm

Weight: 24g
Can be used along with the CL819 Tapered Pad.
For full details of this and also other products please go to the Clamcleat website here: www.clamcleat.com. For product pricing and stock availability please call +852 2827 5876 or contact us.