Clamcleat CL236 Roller Fairlead Mk1 Racing Junior Cleat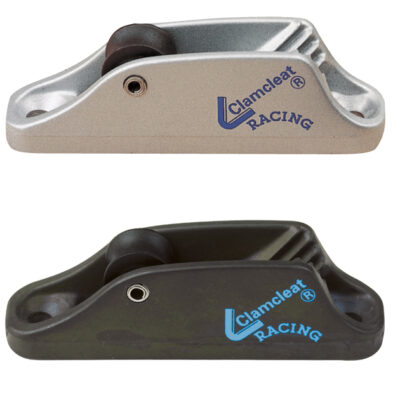 The roller fairlead allows ropes to enter the cleat from above. Silver or hard anodised finish. Perfect for sailing use as well as domestic.
A nylon version is available for lower loads – CL203/S1. See CL827-36 for a version of this cleat that is rigged on a rope.
The Clamcleat CL236 Roller Fairlead Mk1 Racing Junior can also be supplied in nice shiny Chrome plating for those who like a bit of bling! Chrome plated finish, gives a stainless steel look without the weight or sharp edges.
Ideal for Sunshades and sun umbrellas.
Clamcleat CL236 Features
Countersunk fixing holes
Rope Size: 3-6mm
Material: Aluminium
Dimensions: 82 x 18mm
Hole Spacing: 66mm
Bolt Size: M5
Screw Size: 4.8mm
Weight: 40g
Can be used along with the CL818 Taper pad, CL814 Keeper and also the CL816 Cage.
For full details of this as well as other products please go to the Clamcleat website here: www.clamcleat.com. For product pricing and stock availability please call +852 2827 5876 or contact us.