Albin Automatic Bilge Pump 1100GPH 12V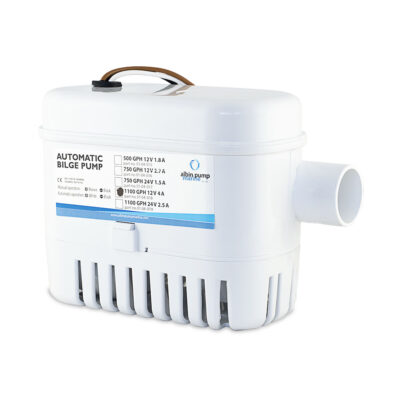 Fully Automatic Bilge Pump 1100GPH, automatic activation with a built in electrical level switch. Pump capacity 75L/min (1100GPH) and 65L/min (1000GPH) at 1m head. Stainless steel shaft, compact and easy to install.
Tough thermoplastic ABS housing and removable base plate with strainer integrated. Easy maintenance and low power consumption. A three wire design allows for automatic, manual or override mode.
Fixed 29mm (1.15″) straight discharge port. 6A fuse. For pleasure boats from 8m (25Ft) to 10m (30Ft) length.
Features
Weight: 0.45 kg/1LbCompact, all-in-one unit
Integrated electrical level switch
Detachable straight and elbow ports (500GPH & 750GPH), fixed straight port (1100GPH)
Automatic operation in harsh saltwater and freshwater use
Mercury-free
Easy hose assembly without risk of stress from overtightened hose clamps
Universal base with removable clipon base with integrated screen and detachable check valve
Easy maintenance, no tools required
3-wire device for auto, manual or override mode
Water-cooled motor for long service life, stainless steel shaft
Part No.
Capacity

Capacity 3ft (1m) head

Ports
Voltage
Fuse
Dimensions WxDxH
01-04-018
11000GPH (75L/min)
1000GPH (65L/min)
Detachable ¾" (19mm) straight and
elbow
12V
6A
151 x 78 x 95mm
(5.9 x 3 x 3.7 inches)
Please go to the official Albin Pump Marine site www.albinpumpmarine.com to see the full range of options and extras. We are here to help too, feel free to get in touch and we can help with pricing and also details, please call +852 2827 5876 or use our contact page.
Albin Pump Marine offers an extensive range of pumps and pump solutions for improved comfort and safety onboard. They develop their products in Sweden while manufacturing with partners around the world.
Albin Pump Marine's embrace of digital development, modern manufacturing technology and a global on-line presence, ensures greater flexibility and greater speed to market than ever before known in the industry.