Chatham Marine Women's Atlantis Deck Shoes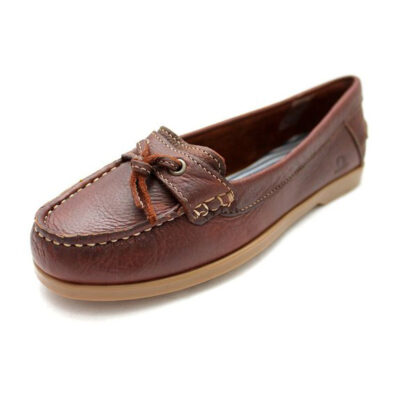 Chatham Marine's Atlantis Deck Shoes are a low fronted tasselled boat shoe made with premium soft leathers. They feature a moccasin construction and an EVA padded sock design. Furthermore, essential for sailing they are manufactured with a slip resistant rubber sole unit with siping. Comfortable, stylish and also trendy, this shoe is a cornerstone of Chatham's ultra popular ladies SPORT range.
The Atlantis is a gorgeously girly but perfectly practical boat shoe, ideal for elevating your warm weather wardrobe. The low fronted design features stitching detailing and a rope effect tie to give this beautiful loafer a real stand out style. Finally, subtle Chatham branding provides the perfect finishing touch to the lovely and luxurious slip-on Chatham Atlantis Tassel Loafer.
Chatham's famous deck shoes, perfect for on the boat or for the high street. You won't be able to beat the comfort which make the perfect loafer for all weather conditions.
Women's Atlantis Deck Shoes Features
Outer Material: The main material is leather
Inner Material: 100% Leather
Closure: Slip On
Padded striped in-sock
Non-slip
Non-marking rubber sole
Comfortable, stylish, and trendy, this shoe is a cornerstone of the ultra popular ladies SPORT range
Shoe Width: Regular
Check out the full range of sailing shoes from Chatham Marine here: www.chatham.co.uk. For product pricing and also stock/size availability please call +852 2827 5876 or contact us.