Crewsaver Spiral 100N Lifejacket For Children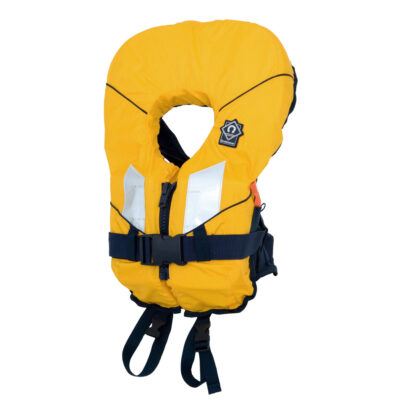 When you take your young family on the water, you need their safety equipment to be the very best. The Crewsaver children's range now completely outperforms existing products on the market to give your children the safest introduction to life on board.
The children's Spiral 100N lifejacket has everything to keep your child safe around water whilst remaining comfortable to wear and play in all day.
This 100N super soft foam lifejacket is as comfortable as it is durable. It allows a secure fit with a fully adjustable waist belt and comes complete with fixings for optional crotch straps.
The Spiral 100N is smaller, less obstructive and more lightweight than the bigger Euro 150N models and yet is still buoyant enough for a small child. This makes it ideal for coastal cruises, junk trips, beach safety and many other water based activities.
Spiral 100N Lifejacket Features
100N front zip lifejacket
100N permanent foam buoyancy, EN 395 approved in children's sizes
Fully adjustable waist for secure fit
Whistle
Thigh Straps to secure jacket in place and avoid it riding up the wearer
Size Guide
Please refer to the Crewsaver website for more information about the lifejacket range and other products: www.crewsaver.co.uk