Spinlock XX Rope Clutches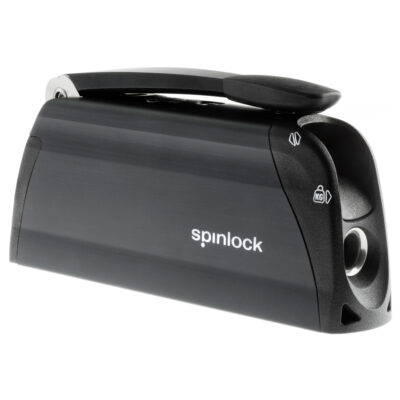 Spinlock XX Rope Clutches are the only secure clutch solution for genoa and spinnaker halyards on performance yachts from 35 to 50 feet. It is a securing clutch for high loads. The jaws were designed for consistent holding of blended covered ropes. The one-piece jaw set is easy to remove and clean. The XX clutch is optimized for high performance 8 to 12 mm line diameters. Several special purpose clutches are available in the XX version including a Lock Open Version and Side Mounting version. Choose an XX powerclutch for working loads and diameters that can't be held reliably with conventional clutches but where the winched release of the ZS is impractical. The Lock Open version allows lines to run freely in or out with the handle closed. It is ideal for applications such as spinnaker sheet and mainsheet where locking is rarely needed.
XXA0812 offers users high performance on lines 8-12mm, loads up to 1800kgs. For users looking for enhanced performance on small diameter blended covered lines, load holding up to 2350kgs and excellent resistance to abrasion on powered hoists and control, look at the new XXB0812.
Also available in the XX Range  is the XXC with ultra high performance and ultra lightweight body.
Spinlock XX Clutch Features
Latest jaw technology offers consistent holding of blended covered ropes
Optimised for high performance 8mm – 12mm (5/16″ – 1/2") line diameters
Available white coated, black anodised or silver polished alloy to match deck or rig
Side mount versions available
Lock Open version available
Access ports for fresh water flushing
Smooth controlled release action
One-piece jaw set is easy to remove and clean
Line height optimised for correct lead to winch
Can be set up for remote operation with no handle
Specifications
XXA and XXB Lines: 8mm – 12mm (5/16″ – 1/2″)
XXA : Loads up to 1800kg
XXB : Loads up to 2300kg
Lock Open Version 
Allows line to run freely in or out with the handle closed. Ideal for applications such as spinnaker sheets and mainsheet when locking is rarely needed
Lifting the rear switch instantly applies clutching mode
Side Mount
Side mounting is the neatest solution for spars, side decks and coamings. Handed port or starboard; use bolted version for conventional installation, or bonded version for building directly into deck or rig to save installation weight
Weights
XX0812 – 1052g (37.10oz)
XX0812/HP – 1095g (38.6oz)
XX0812/HS – 1095g (38.6oz)
Fasteners
XX0812 – 2 x M8 (5/16″) Hex Head (Supplied)
XX0812/HP – 5 x M6 (1/4″) CSK Head (Supplied)
XX0812/HS – 5 x M6 (1/4″) CSK Head (Supplied)
For more information about and a full product range, please go to the official Spinlock website: www.spinlock.co.uk