Sailmakers Palms – Sail Repair Tool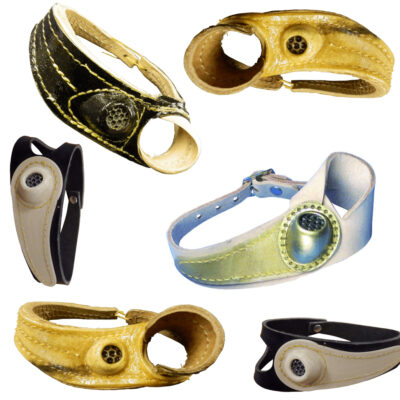 On occasion you will need to repair a sail or two and sailmakers palms will help make it a much easier process. We stock a range of palms for left and right handers from trusted sailmaking equipment specialist manufacturers William Smith & Sons as well as from Holt Marine and Trem.
Hand crafted, these seaming and roping palms are made for long lasting wear and comfort. Either adjustable with a buckle or fixed width, the sailmaker's palm also features a large metal thrusting base with a brass cap and moulded rawhide palm protection. A shield protects the thumb when roping (when twine is wrapped and pulled hard over the thumb).
To use the sailmakers palm, position the dull end of the needle in one of the divots in the thimble. Hold the needle as straight as possible and use the palm of your hand to drive it through thick assemblies of canvas or sailcloth. Wrap the twine around your protected thumb to pull taut.
Features
Essential tool for pushing needles through tough ropes, achieving tight whippings or undertaking sail repairs. Especially when a degree of control is required to avoid injury
Available for left or right handers
Made from tough but soft comfortable leather with reinforced needle pushing pad
The pad also features small indents to stop needle head slipping around under pressure
Available as adjustable and fixed width fitting
For more information on the William Smith & Son product range please visit their website here: www.neptuneworks.com
For product pricing and stock availability please call +852 2827 5876 or contact us.