RWO 45mm Blocks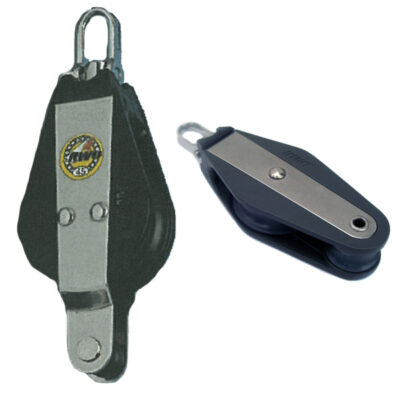 The RWO 45mm blocks range offers great options to the medium boat sailor with strong and lightweight blocks that are reliable. They can handle ropes up to 10mm in diameter and there should be a block type for almost any need.
RWO offer a wide range of models and sizes to suit ropes from 3-16mm and wire from 2-6mm with or without ball bearings. This includes: Ball Bearing Macro 19 – 76mm. Plain Bearing Nova 19 – 76mm.
Ratchet 45 – 76mm. High Performance Wire 15 – 38mm. Stainless Steel 17 – 38mm.
The Macro Range is all black and the plain bearing Nova is two tone grey. Both block ranges are moulded in tough UV stabilised acetal resin. For your selection please see specific block information on each page.
RWO 38mm Blocks are available as
Single
A single with a choice of: becket, swivel, swivel & becket, swivel pillar, cheek, hook, standup, eye-inline, upright and also open fork
Single Nova is also available as the above
Double
A double with a choice of: becket, swivel etc.
Double Nova also available
Triple
Triple with becket, swivel etc.
Though deck, back to back, interlinked and others also available in this RWO 45mm blocks range
For full details of these and also other RWO products please go to the website here: www.rwo-marine.com