Plastic Padding Glassfibre Filler – (Tereson UP 150) 180ml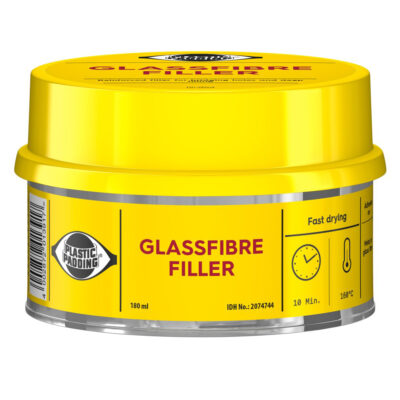 A Glassfibre paste filler for bridging holes and deep filling, containing high tensile glass-fibre strands for extra strength.
Glass Fibre Filler is a blue-green glass fibre paste for bridging holes and deep filling and is suitable for metal or fibreglass. Impervious to water, it contains high tensile glass-fibre strands for extra strength.
The putty has strands of fibreglass matting mixed into it which is easily manipulated during the early stages of the curing process but will harden to a robust, firm finish that can then be worked on once set.
It has a working time of 8 min, a curing time of 20 min and a max. Temperature resistance on steel of +160°C. Contains 302g/l solvent.
Features
Bridges and fills in one go
Fill, joins, seals on wood, metal, glassfibre etc.
Tack-free finish allows easy removal of excess product
Works on metal and fiberglass, also on wood
Contents: Filler/ Hardener/ Application tool/ Information sheet
Working time of 8 to 10 minutes and a curing time of about 20 minutes
Tub Size: 180ml
Ideal for Boats, Caravans, Motorhomes and also Homes etc.
For product pricing and also stock availability please call +852 2827 5876 or contact us.
Plastic Padding will change to Teroson soon, both of which are brands of Henkel. More information can be found on their website.