Palm Impact Spraydeck – For Whitewater Freestyle/Surf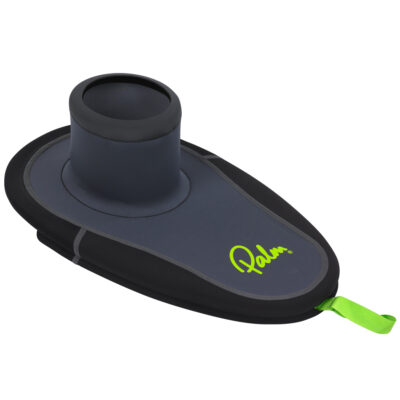 The Palm Impact is a premium shockcord spraydeck for whitewater freestyle as well as paddling through the surf. Burly 9.5 mm shockcord holds it in place' while the seamless O-ring seal keeps the waist tube where you want it. The Nytex reinforced rim shrugs off wear and tear' while a three-quarter dry lip seals water out.
We have the R4 M/L size spraydecks in stock, other sizes would need to be ordered.
Features
Size: R4' R5 Waist: XS/S' M/L' XL/XXL
Colours: Jet Grey
Weight: 771 g (R4' M/L)
Materials: 3 mm nylon Jersey CR neoprene deck / Nytex and Supratex CR neoprene rim / Jersey and mesh neoprene waist
Waist: CR neoprene tunnel with O-ring seal
Construction: Triple Glued' blind stitched and Melco taped seams
Shockcord: 9.5mm elastic shockcord double sewn
Other Features: 3/4 length dry-lip / 3 dimensional deck shape / Sticky Gripsil on cockpit lining / 38 mm webbing release loop with attachment clip
To find the right size for your kayak, please go to the Palm Equipment website: www.palmequipmenteurope.com
For stock availability as well as current pricing please Contact Us.
Technology
Small Diamond neoprene – A textured nylon face fabric adds abrasion resistance in wear and tear areas, without compromising the neoprene's stretch.
Nytex Reinforced – The outer layer of this neoprene is armoured with a smooth, tightly woven high-density nylon to provide long term durability as well as an excellent fit.
Supratex neoprene – Nylon reinforced neoprene that's supple and stretchy, yet holds its shape, maintaining an excellent fit for your spraydeck.
O-ring seal – Keep your deck up as well as water out. Palm's unique waist tube has a conical, grippy neoprene ring, cleverly made without a seam.
Gripsil – A grippy, durable coating which provides excellent grip and also a watertight seal on your kayak's cockpit.
About Palm Equipment
The year was 1979. The location: the Somerset coast. Inside a small shed with a leaky tin roof stood a figure, working hard and covered in a fine layer of glass fibre dust. This was Andy Knight, who wanted some better gear to take paddling, and had decided to make it himself. The sign on the door read 'Palm Glass Fibre Mouldings Ltd'.
Just down the road from the shed, Andy can still be found working away on something new. The shed is now a little bigger, and many more figures toil away, but Andy and the team at Palm still work with the same determination and the same goal: making gear for paddlers.
Palm Equipment International Ltd is based in Somerset, England. From here they supply the Palm apparel brand, kayaks from Dagger, Islander and Wilderness Systems, as well as canoes from Mad River Canoe. And also Infinity inflatables – everything you need to take to the water.