Palm Equipment Palm Kayak Bilge Pump Bailer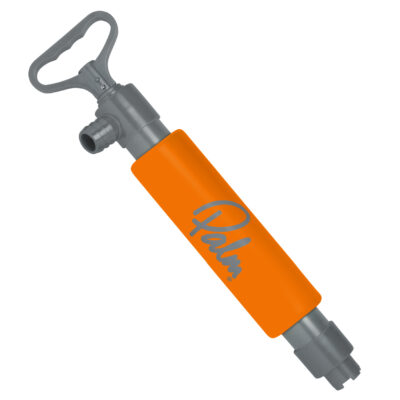 The sea kayak bilge pump removes about 30 litres of water per minute without the need for a hose. A manual bilge pump like this makes getting the water out really quite easy. Easily stored on your deck for quick access. Sea kayakers often strap these pumps to the deck of their boats so they are quickly to hand should the need arise.
Features
Weight 395g
Injection moulded plastic
Length 46 cm / Width 10.5 cm
Soft floatation ring around the middle
Colour: Jet Grey and Sherbet Orange
When thinking of paddling safety gear, one of the lesser considered articles of equipment is a bilge pump. However, kayak bilge pumps should be a required safety item for all sea kayaks and canoes.
For more information about and a full product range, please go to the official Palm website: www.palmequipmenteurope.com. For product pricing and also stock availability please call +852 2827 5876 or contact us.
Palm Equipment International Ltd is based in Somerset, England. From here they supply the Palm apparel brand, kayaks from Dagger, Islander and Wilderness Systems, as well as canoes from Mad River Canoe – everything you need to take to the water.