Palm Equipment Folding Knife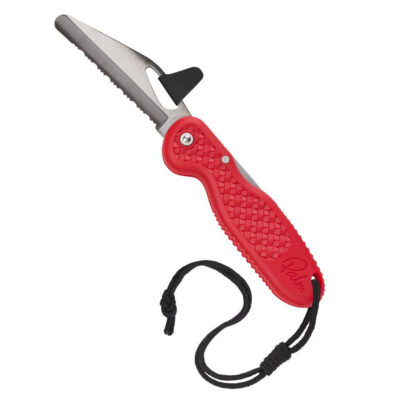 Everything a sailor or paddler needs from a folding knife – a 70 mm locking blade' serrated rope-cutting edge and a safely rounded tip. Its low profile knurled handle fits neatly in a PFD knife pocket' and the bite pull-tab is a simple addition which makes it easier to open one-handed.
The Palm Folding Knife is an essential piece of safety equipment. It makes a great addition to any rescue kit and is essential when using a throwbag.
The folding knife is small and compact and is ideal for storing in the pocket of your PFD. The knife features a Japanese stainless steel blade that has a rounded point and a serrated edge. It then has a small recess on the top edge that has a hypalon tab which makes it easy to open single-handed. Palm make the handle from glass fibre reinforced nylon which adds strength and durability. It is also heavily textured, giving the user maximum levels of grip. In order to prevent dropping it in the water there is A safety lanyard attached to the handle.
Features
70mm / 2.75″ Blade
Weighs 49g
Serrated Blade
Japanese Stainless Steel Blade
Blade Recess for Hypalon Pull Tab
Glass Fibre Reinforced Nylon Handle
Textured Handle for Enhanced Performance
Safety Lanyard
Also slots into a number of buoyancy aid pockets for easy stowage.
For more information about and a full product range, please go to the official Palm website: www.palmequipmenteurope.com. For product pricing and also stock availability please call +852 2827 5876 or contact us.