OverBoard Waterproof iPad and Tablet Case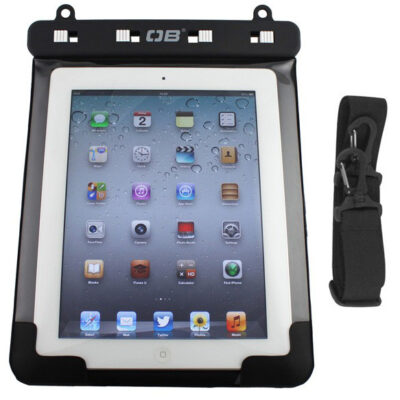 OverBoard's waterproof iPad case has a clear front so you can use all the touch screen functions and seals tightly with their Slide Seal System, making it guaranteed submersible to 6m / 19ft.
If you do drop it in the water, the waterproof iPad case will neatly float to the top so you can get it back quickly. That's not likely to happen though, because it comes with a back hand loop for secure handling in either orientation.
Complete with a shoulder strap for easy transport as well, the OverBoard Waterproof iPad case is the relaxed and secure way to take your iPad to the beach, pool or on-board your boat.
Underwater photography warning: Capacitive touchscreens don't work underwater, so you may find it difficult to take photos underwater. To take video underwater, simply start filming above the waterline.
Waterproof iPad Case Features
100% waterproof iPad pouch (Class 5)
Floats safely if dropped in water
Guaranteed submersible to 19ft / 6m
Transparent front allowing full use of device features
Back window for rear camera support
Keeps out dust, sand, dirt and water
Includes padded back and rear hand loop
Made of environmentally-friendly biodegradable thermoplastic polyurethane (TPU)
Perfect for iPads and similar sized or smaller tech gadgets, like e-book readers
What is Included
Black iPad Case
Fully Adjustable Shoulder Strap
Caribineer Clip
Moisture Sensitive Desiccant Sachets
Instructions / Care Guide
Sizing
Height: 26cm / 10.2" Width: 20cm / 7.9"
Note: dimensions quoted are for the maximum size of a device that will fit inside the waterproof case
Check out the full range of waterproof products from Optimum Time here: www.over-board.co.uk
*Warning: Always test your device for buoyancy before use and be aware that external environmental factors may affect floatation.