OverBoard Small Waterproof VHF Case – SALE 50% Off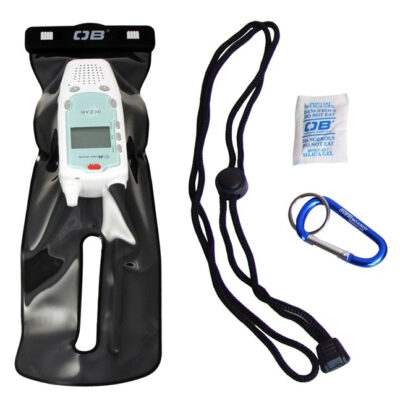 Suitable for small handheld VHF radios with left or right-handed antennas; this VHF case features a transparent front so you have full use of the device while it is safely sealed inside with OverBoard's Slide Seal System™.
And because the sea can be mighty unpredictable, our VHF case is also guaranteed submersible to 19ft / 6m and floats if dropped into the water.
This Small and the Larger version are no longer made, OverBoard now offer the Pro VHF Case.
Small Waterproof VHF Case Features
100% waterproof VHF case (Class 5)
Floats safely if dropped in water
Guaranteed submersible to 19ft / 6m
Keeps out dust, sand, dirt and water
Made of environmentally friendly biodegradable thermoplastic polyurethane (TPU)
Suitable for right and left-handed antenna radios
Fits most small handheld VHF radios
Included
Small Waterproof VHF Case
carabiner Clip
Neck Lanyard
Moisture Sensitive Desiccant Sachet
Instructions / Care Guide
Check out the full range of waterproof products from Optimum Time here: www.over-board.co.uk. For product pricing and also stock availability please call +852 2827 5876 or contact us.
*Warning: Always test your VHF for buoyancy before use and be aware that external environmental factors may affect floatation.