Optimum Time 'Big Yellow' Sailing Watch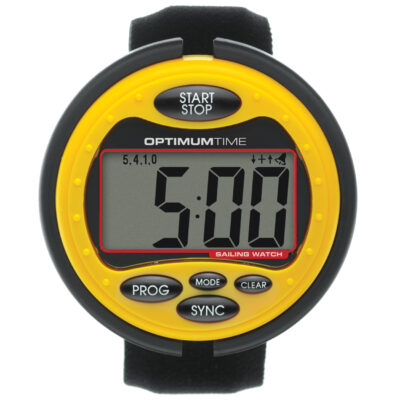 The "Big Yellow" Jumbo Sailing Watch from Optimum Time offers a large overall case, with digits that are 16mm high. The long Velcro strap allows the sailing watch to be worn over clothing or foul weather gear, while the included mast/boom mount bracket allows the watch to be mounted to a flat surface, the Jumbo Sailing Watch can also be sewn to the back of a glove if you prefer to have the watch on the back of your hand. In addition to normal time keeping mode, the Optimum Time OS315 sailing watch offers sailing specific  countdown repeat options, countdown and up to show elapsed time in handicap races, ISAF start sequence and sync button for instant synchronisation if a gun is missed.
The Optimum Time Sailing Watch has 16-mm LCD digit height and a display window of 38 x 20 mm so checking the time is easy even in heavy seas. Included is a boom/mast mounting bracket for a boat-mounting option
Optimum Time OS315 Features
Large 65mm overall ABS case
38mm x 20mm display size
Massive 16mm digit height
Single row display
Adjustable Viewing Angle
Boom/Mast Mount Bracket Supplied
Elasticated Strap for Wrist or over sleeve wearing
Water Resistant to 5 ATM
Shock Resistant Construction
Normal Timekeeping Mode (12 or 24 Hour)
Specialist Sailing Timer Functions:
Countdown repeat option or
Countdown and Up to show elapsed time for handicap races
5,4,1,0 ISAF start sequence pre-programmed with audible warning signals (can silence if preferred)
5 minute, 3 minute and multiples of 1 minute programs as well
"Sync Button" for instant synchronisation if a gun is missed
Check out the full range of sailing watches from Optimum Time here: www.optimumtime.com. For product pricing and also stock availability please call +852 2827 5876 or contact us.