Optimum Time OS1454R Series 14 Sailing Watch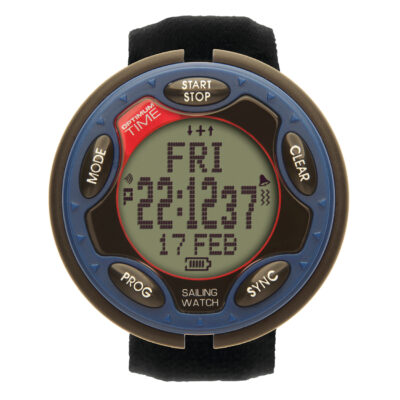 The Optimum Time OS1454R is only 4mm lager in diameter than the Series 3. But that small increase has allowed for a large circular display that uses dot matrix technology. Under normal use, the sailing countdown is visible in big OT digits. However, for the last 59 seconds the display comes alive to a massive 25mm.
None of the world-famous features are lost, and buttons around the outside of the watch make them much easier to press with gloves on.
The OS 14 Series watches all come with a rechargeable battery and USB charger clamp. This extra power means a vibration buzzer is included to add to the louder alarm sound. Both vibration and sound can be switched off individually.
Optimum Time OS1454R Features
Large Dark Blue 68mm overall ABS case
Round 36mm diameter display size
Large 13mm digits in normal mode
Massive 23mm digits for final 59 seconds
3 Row display to show time and timer together
Adjustable viewing angle
Boom/Mast mounting bracket supplied
Will also attach to mast/boom via elastic
Elasticated Strap for wearing on wrist or over sleeve
Water Resistant to 5 ATM
Shock Resistant Construction
Buttons widely spaced for easy operation when wearing gloves
Normal Timekeeping Mode (12 or 24 hour)
Specialist Sailing Timer Functions
Countdown Repeat option or
Countdown and Up to show elapsed time for handicap races
5,4,1,0 ISAF start sequence pre-programmed with audible warning signals (can silence if preferred)
5 minute and 3 minute pre-programmed options
User selectable 1 minute periods – ideal for match racing
"Sync Button". The famous Optimum Time invention that gets yout back to race time if the gun is missed
Count-up from zero if required to time a match
Rechargeable battery giving extra power and very long life
Bespoke USB charger clamp included for convenient charging
Vibration alarm to coincide with beep sound. For when it's either too noisy to hear the beeps, or you don't want them heard by others.The vibration and the sound are both individually switchable
Check out the full range of sailing watches from Optimum Time here: www.optimumtime.com. For product pricing and also stock availability please call +852 2827 5876 or contact us.