Kestrel 3000 – Pocket Weather, Heat & Humidity Meter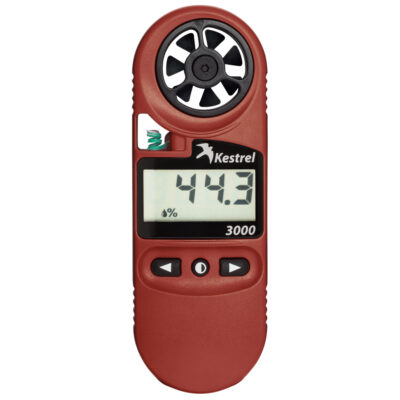 The Kestrel 3000 keeps you from working past your limits. From the Kestrel 3000's accurate relative humidity readings, it also calculates the dewpoint and heat stress index—important information to know when working or playing outdoors in hot and humid conditions. Professionals use Kestrel Wind Meters to determine how frequently athletes need to hydrate, and when the conditions are unhealthy for strenuous exercise.
Kestrel Weather & Environmental Meters are designed and also manufactured in the USA. In addition they are backed by a 5-year warranty. Furthermore, they are innovatively designed for stability and accuracy in abrupt condition changes. Rugged and durable, because Kestrel drop tests each model. Finally, Kestrel make their products waterproof and also design them to float if dropped in water.
Measures
Dew Point
Heat Stress Index
Relative Humidity
Temperature
Wind Chill
Wind Speed
Kestrel 3000 Features
3-Button Control
Backlight
CR2032 Coin Cell Battery (Average Life 300 Hours)
Data Hold Function
Drop-Tested, MIL-STD-810G
Easy-To-Read Display
Neck Lanyard
Patented Impeller and also Sensor Technology
Slip-On Protective Cover
User-Replaceable Batteries
Waterproof & Floats
For more information on this as well as other products from Kestrel (Nielsen-Kellerman) please go to their website www.nkhome.com. For pricing and stock availability please contact us.