Kannad SafePro AIS EPIRB – GNSS (GPS)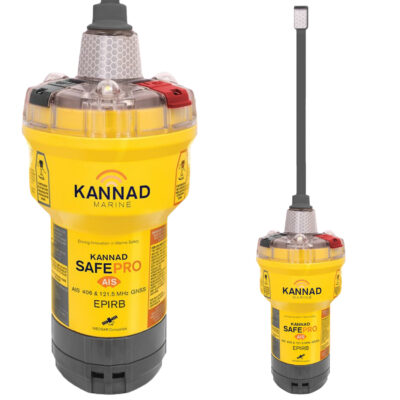 The Kannad SafePro AIS is the world's first EPIRB to include 406MHz, 121.5MHz, AIS and also GNSS to accelerate search and rescue. In addition the unique power of these beacons is in the flexibility and additional tracking capabilities. Qualities long demanded by maritime customers. This will further reduce rescue times by combining the global location power of 406MHz with the localized rescue capacities of AIS. Further, AIS was first introduced to the world in Kannad's AIS MOB range.
Life Saving Innovation
The world's first EPIRB to include localised alert and also recovery via AIS
Unique location detection with the world's first EPIRB to combine the GNSS coverage of GPS and also the precision location of Galileo
Moreover, combining the benefits of multiple life saving products in one beacon
Rescue Features
Kannad SafePro are MEOSAR compatible for faster alert detection
Combines the global alerting capability of the Cospas Sarsat 406MHz frequency with the localized recovery power of AIS
Has four search and rescue frequencies (406MHz, 121.5MHz, AIS and GNSS) to support accelerated rescue
Uses multiple GNSS receivers including GPS & Galileo, offering greater global coverage and also faster more accurate location detection
Operating Frequencies
406MHz
121.5MHz
Multi GNSS
AIS
Product Features
SafeBase – Strong impact resistant base to limit damage to EPIRB if dropped.
SafeLight – Three powerful 360 degree strobe lights.
SafeChange – Easy to replace battery back and remove the electronic head. All this is done through the base of the EPIRB.
SafeSwitch – Helps prevent accidental activation by covering the power button.
SafeCarry – Concealed hands free emergency carry strap meets US 2016 mandate.
SafeTransfer – Safety bracket for transporting the EPIRB without the risk of accidental activation.
Other Features
Built in AIS
Multi GNSS including Galileo
Accidental activation protection
Rugged construction optimised for commercial environments
Hands free carry strap
360-degree strobe
Comes with safety bracket
10-year battery life
Sealed Electronic and also Battery Unit
Manual/Auto release options
Subscription Free
Multiple self tests 120 short tests for system check and also 20 Long tests which include testing of the GNSS receivers
Alerts global Search & Rescue professionals via Cospas Sarsat 406MHz frequency
Locates to within 3-5km
Uses 121.5Mhz frequency to home into EPIRB location
Water Activation
Multiple false activation protection measures
Compliance with United States emergency hands free transport mandate
Optimised for MEOSAR Enhanced detection capability for accelerated rescue
Multi-GNSS Receiver
The new range also offers greater location accuracy by including multiple GNSS receivers. This means the EPIRB will receive GNSS (more generally known by the brand name GPS) from more than one source of satellite frequency. Therefore increasing the speed and accuracy of locating your position on the water.
EPIRB Activation Options
Manual Activation EPIRBs: The unit comes in a SafeTransfer bracket which prevents accidental activation of the water switches. This needs to be removed and the unit submerged to activate. Moreover, users can lift the red tab and activate directly. In addition, the manual EPIRB is considered the crews' emergency beacon and travels with the crew on to the liferaft.
SmartTransfer Bracket
Magnet deactivates sea contacts during transport
Prevents unwanted activations
Best to mount on bulkheads in clear view near emergency exit
Automatic Activation EPIRBs: The unit is in cased in a Auto-house containing a Hydrostatic Release Unit which activates when the vessel is submerged, releasing the water activated EPIRB. Moreover the Auto EPIRB is thought of as the vessel's emergency beacon. However, customers need to purchase the Hydrostatic Release Unit seperately.
Float Free Bracket
Fits into existing mounting holes from previous Auto Housing bracket
Magnet deactivates sea contacts when in bracket
Sold seperately
For full details of this product please go to the manufacturer's website here: www.kannadmarine.com. For product pricing and also stock availability please call +852 2827 5876 or contact us.