Islander Paradise II Odyssey – Marine Recycled Sit on Top Kayak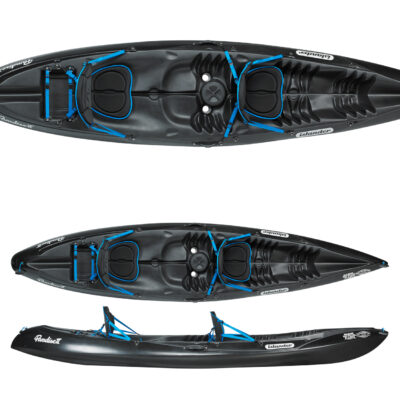 A world first, this kayak is moulded using recycled plastic collected from beach cleans and salvaged marine industry waste. Thanks to their partner Odyssey Innovation, Islander are able to bring a new lease of life to material that would otherwise be polluting our oceans.
The Paradise II Odyssey can seat two adults, an adult and two smaller paddlers, or be paddled solo. The long keel and stable multi-chine hull make it glide quickly through the water. Two Deluxe Backrest seats come as standard so you can paddle all day and useful storage spaces mean you can join the effort and collect any rubbish you find along the way.
This is a very popular model, there is a production queue so please make orders as soon as you can to avoid disappointment.
Islander Paradise II Kayak Features
Made from Odyssey Recycled Marine Plastic
Integral seats for solo or tandem paddling
Moulded central child seat
Adjustable Deluxe Backrest
Ergonomic mould-in footbrace
5″ screw hatch with pull out bag
Stern tankwell with strap retainers
Self-bailing scupper holes
D-ring accessory attachment points
Drain bung
Strong carry handles
Length: 390 cm
Width: 84 cm
Weight: 28 kg
Max Capacity: 200 kg
Colour: Odyssey Black
Due to space constraints we do not stock these kayaks in Hong Kong but work with customers to get the best options available, this includes newest models, colours and accessories as well as the best kayak for the required usage. Our suppliers ship from the UK, Europe and the USA.
Please go to the official site www.islanderkayaks.com to see the full range of options and colours. We are here to help too, feel free to get in touch and we can help with pricing and details, please call +852 2827 5876 or use our contact page.