Islander Fiesta Sit In Kayak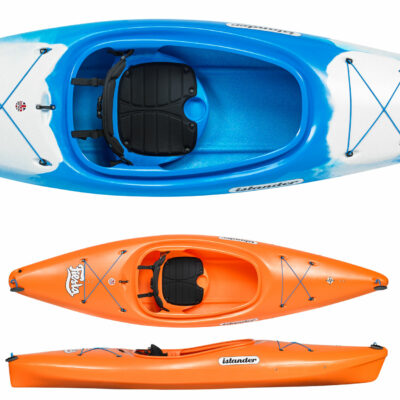 The Islander Fiesta is a great entry level kayak and is ideal for your first time kayaking adventures. It is suitable for most sizes of paddler and the carrying capacity goes up to 130kg making it an ideal beginners kayak even for the larger paddlers. Easy to paddle, the Islander Fiesta is a very popular kayak. The round hull makes it forgiving, while the bow cuts through the water with ease.
Enjoy your paddle in a kayak that's fun and easygoing. The Fiesta is stable and easy to control, and outfitted so you can make it a comfortable fit in seconds. It's a great way to experience paddling and just having fun on the water.
The Islander Fiesta features a large easy access cockpit and in the cockpit area there is a moulded-in seat that comes fitted with a seat pad for comfort. Further comfort for the paddler is achieved by the padded backrest. The paddler then has support for the optimum paddling position due to the addition of the adjustable pedal footrests in the front of the kayak.
On the decks of the fiesta there are bow and stern deck elastics that are ideal for storage. Islander has also then fitted each end of the Fiesta kayak with grab handles that will make it easy to man handle to the waters edge.
Features
Integral moulded seat
Etha foam pillar buoyancy
Universal seat pad
Adjustable Universal backrest
SlideLock footbrace
Deck elastics
Soft touch grab handles
Anodised security bar
Moulded drain plug
Colours: Arpicot, Cloud, Lime, Sunset
Spraydeck Size: Palm – Bigdeck (N5)
Length: 279 cm / 9′ 2″
Width: 70 cm / 27.5″
Cockpit Size – 93 x 53cm
Weight: 19 kg / 35 lbs
Max Capacity: 130 kg / 287 lbs
100% Recycled Plastic version also available
The use of recycled plastic from the production of other Islander and Dagger kayaks make the Recycled Fiesta an environmentally sound choice.
Due to space constraints we do not stock these kayaks in Hong Kong but work with customers to get the best options available, this includes newest models, colours and accessories as well as the best kayak for the required usage. Our suppliers ship from the UK, Canada and USA.
Please go to the official site www.islanderkayaks.com to see the full range of options and colours. We are here to help too, feel free to get in touch and we can help with pricing and details, please call +852 2827 5876 or use our contact page.