Aquaglide Blackfoot Angler 110 HB Inflatable Fishing Kayak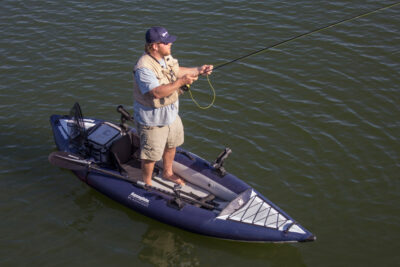 The Aquaglide Blackfoot Angler 110 HB (previously the Blackfoot HB Angler SL) Inflatable Fishing Kayak provides a lighter weight, solo angling option at a slightly more economical price-point than the Blackfoot Angler 125 HB.
Numerous integrated Scotty mounts strategically placed around the kayak allow the Blackfoot to be outfitted into your ultimate fishing machine. High performance fin system includes stiff, durable, foiled fin with unique quick-release for easy setup.
Adjustable Rugged Core seats enhance paddling comfort. They feature a high backrest with plenty of storage features, including mesh pockets, integrated fishing rod holders and also removable beverage holder. In addition, the moveable and removable seats accommodate kayakers of varying sizes.
Aquaglide Blackfoot Angler 110 HB Features
Three inflation valves
Quick-release tracking fin system
HB high pressure floor is constructed from 8cm material which can be inflated from 6 to 12 PSI
Side tubes constructed from 1000 denier 850GSM Duratex reinforced PVC with smooth finish
Hull constructed from 500 denier 600G Duratex reinforced PVC
Sturdy, molded handles for boarding and transport
Front and rear spray guards with bungee deck lacing
Five integrated Scotty mounts for attaching optional Scotty accessories. Please note: To use the Scotty mounts, you must purchase four after-market mounting screws per mount. These should be 1/4" x 20 thread (per in)  x 7/8" Stainless pan head. Do not use longer screws as they may puncture the kayak.
Drain plugs
One adjustable Core seat with integrated storage as well as additional fishing rod holders.
What is included: Carrying bag, repair kit, instructions, fin, foot brace, Core seat.
Dimensions: L 11'0″ x W 37″ (L 330 cm x W 94 cm)
Weight: 27 lbs. (12,2 kg)
Capacity: 400 lbs. (181 kg) 1 Person
HB Floor
Expedition-grade Duratex material provides unmatched durability and performance. High-pressure HB floor creates a solid Hard-Bottom platform that is incredibly stiff and responsive. HB floor supports up to 12 psi (0,83 bar) air pressure for a hull that is as stiff as fiberglass and stable enough for standing.
Seats and Fin System
For added comfort the Rugged Core™ seats provide an array of thoughtful features including adjustable air cushion, high backrest, plentiful mesh storage pockets as well as integrated fishing-rod holders. The Fin System includes a stiff, foiled fin with unique quick-release for easy setup.
Accessories
Furthermore, customers can unleash the full potential of the Aquaglide BlackFoot HB Angler by using one of Aquaglide's High Pressure Pumps. Customers need to purchase pumps and other accessories separately.
Aquaglide products will be ordered direct from the manufacturer as they are specialised products. Customers can find more information about Aquaglide on their website www.aquaglide .com
For help with pricing and further details, please call +852 2827 5876 or use our contact page.