ILCA 4 Sail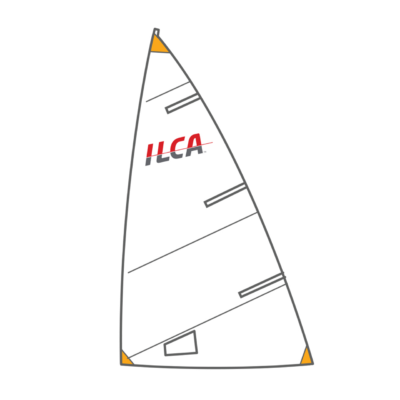 This ILCA 4 Sail is a class legal racing sail complete with class button and sail bag. Battens, country code and also sail numbers/letters are not included and must be purchased separately. It is a direct replacement for the Laser 4.7 sail.
Made from a heavy weight dacron for long sailing life and comes folded. Includes sail bag and free sail numbers. Designed to work with the ILCA 4 lower mast section that has a pre-bend and ideal for lower weight sailors as it offers less sail area and more control compared to the ILCA 6 or ILCA 7. The sail has the same specifications as the Laser 4.7 sail.
Sail Battens and Digits
Sky International can supply batten sets as well as sail numbers and country code stickers. When ordering sail numbers, class rules specify that you use contrasting colours. The first two numbers must be different to the final four sail numbers. We use red and black colours – blue would need to be a special order.
As it stands, ILCA 4 and Laser 4.7 sail numbers/letters can be a minimum of: Height 220 mm, Width 150 mm (excluding the number 1) and a Thickness of 30 mm. Sky sell country letters and digits that are within this (usually 9″ size and sold as computer '8' to be cut to any number).
Sky International can also help to install your sail numbers and country code, please contact us for more details and options.
Sail Features
Fits ILCA 4 and/or Laser 4.7
Class legal and approved by the International Laser Class Association
Includes ILCA class logo and patch
Sail #s included (ask us about application)
Includes folded sail bag
50 square feet
3.8oz Dacron
How To Find Your Sail Number
All ILCA Laser sailboats have an ISAF issued sail number. This number can be found on a sticker on the aft wall of the cockpit. Sail numbers are required for sanctioned racing events to assist with scoring. Country codes are only required at international events, and only available in black.
Sail Number Options
Most sailors prefer the Euro style numbers in Red/Black, which is our default. Sky only stock red/black digital 8's.
Digital Eight – Red/Black – Numbered using Digital Eight style numbers, which need to be cut on install, with first 2 digits in red, last 4 in black
Country Codes
Class legal country codes are available for HKG, CHN, IND, and IDN sailors. These are only available in Euro (Pre Cut) in Black.