Holt Sailors Knife with Shackle Key – Black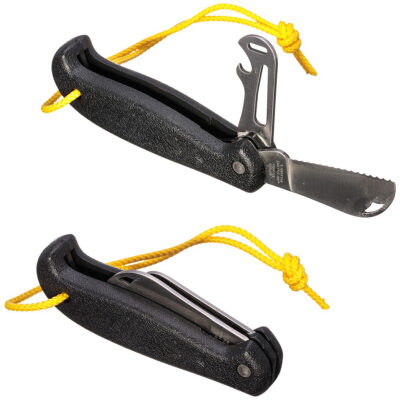 The Holt Sailors Knife has everything a sailor or paddler needs from a folding knife, a partially serrated rope-cutting blade, shackle key and also a bottle opener. As well as being pocket size it fits neatly in a PFD knife pocket too. In addition to being usefull with cutting lines, this knife includes a vital piece of kit – a shackle key. Did we mention it also has a bottle opener?
The Holt Yachtsmans Knife is an essential piece of equipment. It makes a great addition to any personal kit and is helpfull when used in an emergency.
Features
Partially serrated blade
Shackle key
Bottle opener
Made in UK from Sheffield stainless steel
Blade is 'Doublesharp' for tough rope cutting
Safety lanyard
Fits into pockets easily
Also known as a 'Bosun's Penknife'
Also slots into a number of buoyancy aid pockets for easy stowage. Sailors knife with satin stainless steel serrated blade and shackle key set in a fully protective plastic handle.
For more information about and a full product range, please go to the official HOLT website: www.holt.eu. For product pricing and also stock availability please call +852 2827 5876 or contact us.