Henri Lloyd Fast-Dri Mono Tee – With Silver Ion Technology – SALE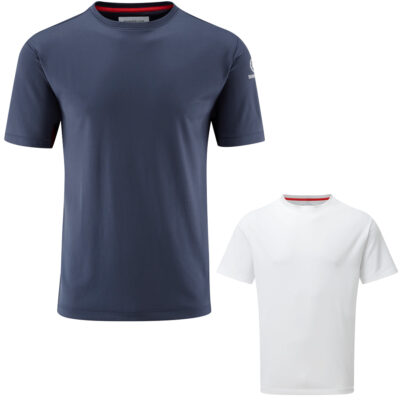 Whether you're expecting to get wet or not, wearing the Henri Lloyd Fast-Dri Mono Tee makes sense on several levels. There are many ways to get wet on a boat: spray, rain, waves as well as perspiration. These tees actually wick moisture away from your skin to dramatically increase your comfort level. Plus, their lightweight, hydrophobic, non-absorbent polyester fabric features Fast-Dri technology as well as a Durable Water Repellent (DWR) finish that sheds surface water so they avoid that soggy feeling you get with ordinary tees altogether. They provide UV protection when worn alone and their mechanical stretch design won't slow you down. Silver Ion technology provides anti-odour protection. Wear independently in warm conditions or as the base layer in a layering system.
A woman's version is also available here.
Fast-Dri Mono Tee Features
Silver Ion Technology to prevent odour while killing bacteria
3-buttoned polo
100% polyester
Regular fit
Mechanical stretch for freedom of movement
Quick-drying
UV protection
Wicks moisture
Navy Blue and White colours are available
SALE – All Henri Lloyd Sailing Clothes Now 20% Off
The Story of Fast-Dri Silver
Next to Skin technology has seen some of the most rapid advances in recent years. The Henri Lloyd Fast-Dri Silver range delivers improved comfort and performance levels over traditional cotton garments with great looks. Furthermore, the range features a highly effective anti-microbial treatment utilising silver ion technology that repels bacteria, helping to reduce body odour over prolonged periods of activity.
For more information about this product, including sizing and in addition the full product range, please go to the official Henri Lloyd website: www.henrilloyd.com.
For product pricing and also stock availability please call +852 2827 5876 or contact us.