Gerber Bear Grylls Scout Knife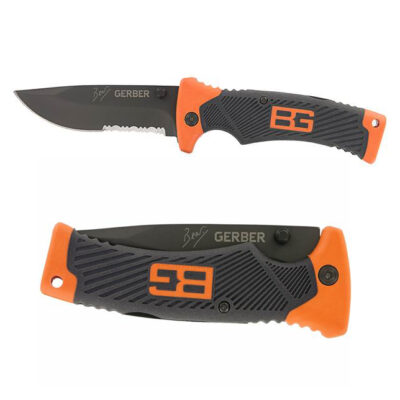 The Bear Grylls Scout Knife handles survival easily as a daily carry. It has a pocket clip that can slide neatly within a pocket or attach to a belt. The pommel contains a lanyard hole for additional securing options. Included with this ready tool is Bear's Priorities of Survival pocket guide.
Surviving the unexpected is about being prepared, and the Bear Grylls Scout keeps you prepared at all times. Taking advantage of Gerber's decades of experience as well as Bear Grylls' adventure knowledge, the Scout gives you the ability to engage with your surroundings in perpetual survival mode.
Features
Thin and Lightweight Folding Knife
½ Serrated High Carbon Stainless Steel Drop Point Blade – Ideal for edge retention and cutting rope
Dual-Sided Thumb Stud – For easy single-hand opening
Ergonomic Textured Rubber Grip – Maximizes comfort and also reduces slippage
Lock Back – Locks blade securely in place and maximizes safety during closing
Clip for convenient pocket carry
Priorities of Survival – Pocket guide contains Bear's survival essentials
Blade Length: 3.63''
Open Length: 7.3''
Closed Length: 4.0''
Weight: 2.54 oz
Also slots into a number of buoyancy aid pockets for easy stowage.
For more information about and a full product range, please go to the official Gerber website: www.gerbergear.co.uk. For product pricing and also stock availability please call +852 2827 5876 or contact us.