Clamcleat CL211 MK2/S2 Racing Junior Rope Cleat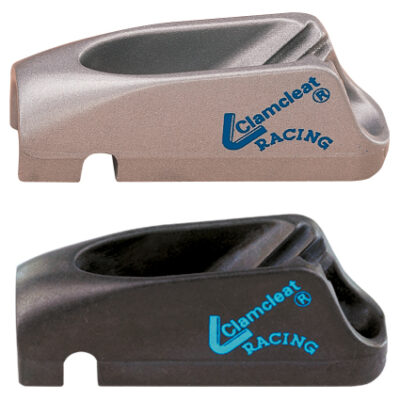 The becket on the Clamcleat CL211 MK2/S2 holds the end of the rope under the cleat. Rig for 2:1 advantage without the need for an extra fixing. Ideal for Optimist masts and small dinghy halyards. Manufactured from aluminium for a light weight and durable performance.
Two finishes available:
CL211 Mk2/S2 has a silver stove enamel finish for a cost effective, high quality coating
CL7211 Mk2AN/S2 has a hard anodised finish to give a hard wearing surface
Available in standard silver and hard anodised finishes. Furthermore, a model without a becket is available – CL211MK2.
Clamcleat CL211 MK1 Racing Junior Features
Countersunk fixing holes
Rope Size: 3-6mm
Material: Aluminium
Dimensions: 55 x 16mm
Hole Spacing: 27mm
Bolt Size: M4
Screw Size: 4.2mm (No. 8)
Weight: 23g
Can be used along with the CL819 Tapered Pad, the CL817 Cage and the CL815 Keeper accessories.
For full details of this and also other products please go to the Clamcleat website here: www.clamcleat.com. For product pricing and stock availability please call +852 2827 5876 or contact us.