Chatham Marine Mens Schooner Deck Shoes – SALE
This item is on SALE with 10% off the full retail price, limited sizes in stock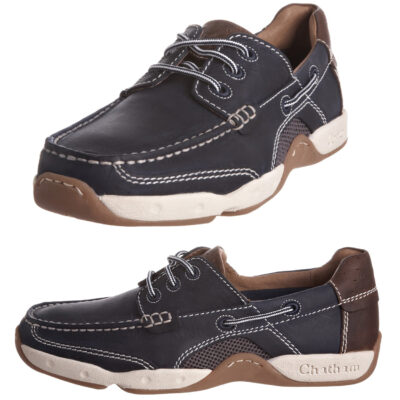 The 3 eyelet professional Mens Schooner Deck Shoe, where every piece has been designed with performance and style in mind. A double designed phylon midsole with non-slip rubber siped outsole and suction cups for added grip. Also features a perforated padded sock for added comfort.
Chatham's famous deck shoes, perfect for on the boat or for the high street. You won't be able to beat the comfort which make the perfect loafer for all weather conditions.
Mens Schooner Deck Shoes Features
3 eyelets
Phylon mid sole rubber out sole
Outer Material: Leather
Inner Material: Manmade
Sole: Gum Rubber
Closure: Lace-Up
2 year guarantee
Non slip rubber sole
Suction cups for grip
Available in Navy/Chestnut colour
Check out the full range of sailing shoes from Chatham Marine here: www.chatham.co.uk. For product pricing and also stock/size availability please call +852 2827 5876 or contact us.