Chatham Marine Aqua-Go Coasteer Waterproof Sailing Shoes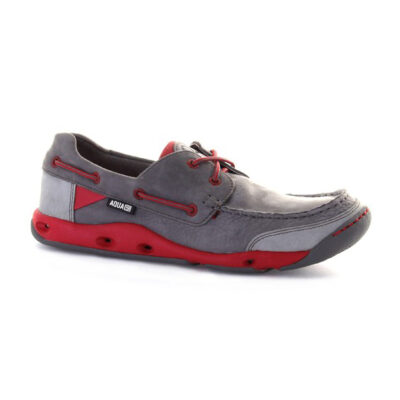 Chatham Marine's Coasteer G2 performance sailing shoe is a part of Chatham Marine's high tech Aqua Go range of shoes weighing in at an ultra light 500g a pair. This whole collection features a unique water drainage system along with a fast drying upper making it perfect for all water based sports. As a result, the shoes can be worn in water and wet conditions without the risk of ruining them. The water just disperses from the shoe and allows you to carry on sailing. One of the best shoes to wear all day on and in the water while being able to walk home or to the pub in them too.
Aqua-Go Mist Features
The Ultralight, anatomical designed drainage system allows water to disperse from the interior of the shoe in under 10 seconds
The phylon compound offers maximum flexibility and cushioning. Rubber latex makes up the outsole, giving supreme traction in wet or dry conditions
2 years manufacturer guarantee
Available in Grey/Red colour
Now on SALE – 20% off
See also the Chatham Marine Aqua-Go Mist Waterproof Sailing Shoes for a slightly different style
Check out the full range of sailing shoes from Chatham Marine here: www.chatham.co.uk. For product pricing and also stock/size availability please call +852 2827 5876 or contact us.