Cat Hawk Wind Indicator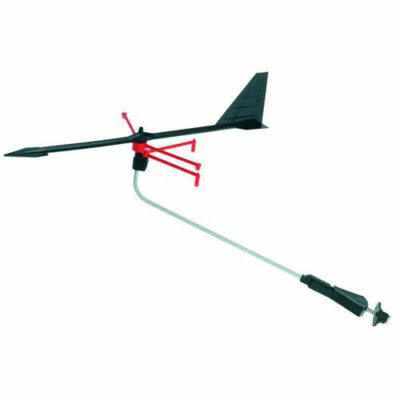 The Cat Hawk is designed for non-spinnaker Catamarans up to 8m. It has been developed to mount onto the front of the Forestay Bridle where it is ideally situated for maximum visibility both upwind and downwind. The Cat Hawk uses the same Vane Arm as the Hawk with all the benefits of balance, weight and also UV protection that it brings. The Reference arms are specific to the Cat Hawk and they can be set up for either upwind angles or to judge the fastest downwind angles.
The Support Rod is aluminium and has the Hawk quick mount/un-mount clip for quick rigging and de-rigging.
Cat Hawk Wind Indicator Features:
Vane Arm Length: 25cm
Overall Height: n/a
Overall Weight: 30gms
Bearing: "V" Jewel
UV Protected: Yes
Balanced Arm: Counter Weight
Use:
Non Spinnaker Catamarans up to 8m.
Ensure all parts are present and identified
Vane Arm
Fixed Reference Arm
2 x Adjustable Reference Arms
Aluminium Support Rod
Locking Block
Bridle Clips
Large Self Tapping Screw
Assembly Instructions
Test the Vane Arm balance by putting the Support Rod into the vane arm and just slowly lift it off the table. The Vane Arm should remain parallel to the table
If either end of the Vane arm drops quickly you will need to reposition the Counter Weight
Gently bend the front of the Vane Arm until the counter weight lifts up. Slide it in the necessary direction and retest
When the position of the Counter Weight is correct ensure it is securely pushed into the VaneSlot the Fixed Reference Arms over the Vane Arm spindle with the reference points facing down
Push it up hard until it clicks into position
The angled arms can face the front of the Vane Arm or the back of the Vane Arm depending on whether you prefer to use them up or down wind
Fit the 2 adjustable Reference Arms into the top of the Locking Block. Place the lip of the Vane Arm shaft into the locking block recess
Push the Support Rod up through the Locking Block and into the Vane Arm. Push the Support Rod in far enough to ensure the vane arm is lifted clear of the Locking Block Surface as in the photo
The Vane arm should now turn perfectly with no friction. Tighten the bottom of the 2 screws to lock the Locking Block onto the Support Rod and the top screw to tighten the Reference Arms
 Set up the Bridle Clip to be used on the Adjuster Plate, or on the Bridle Shackle
Please refer to the manufacturer's website for more information: www.hawkmarineproducts.com