Blue Wave Dyneema Rope Eye Terminals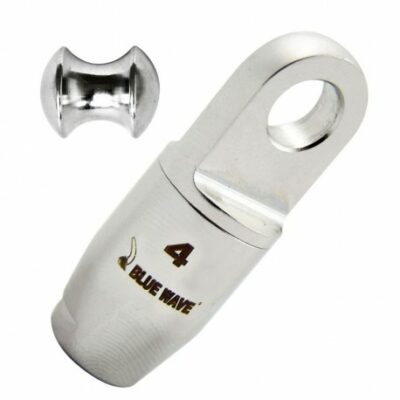 Blue Wave Dyneema Rope Eye Terminals are an innovative and simple concept for making up Dyneema rigging. A great alternative to stainless steel wires. No special rope splicing skills needed to form end terminations, making it the perfect solution for carrying on board an emergency stay in case of failure on the main rig. Blue Wave's new rope fitting is made of marine grade stainless steel with an eye-catching design and solid construction. Available in different sizes. Eye Terminals also available made from aluminium.
The construction and nature of these parts make them ideal for not only marine use but for architectural projects both inside and outside.
Product Features
High quality 316 Stainless Steel construction
Lightweight compared to other terminal option
Sizes to suit 4mm to 16mm Dyneema rope diameters
Easy to splice the rope terminals
Also available made from aluminium
For marine and architectural use
Not all sizes mentioned in this overview are normally in stock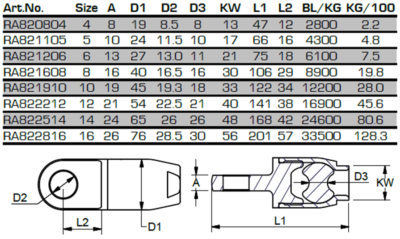 Additional Information For Rope Terminals
Blue Wave engineer and test break loads stated in the technical schemes and also guarantee safe and reliable performance.
Correct attachment
When terminating high modulus fibre like Dyneema rope a knot, for example, can reduce the ropes strength by up to 60% and will seat and slip under load.
Blue Wave make end fittings for and test with spliced rope attachment.
For correct attachment/splicing contact your local rigger.
Safe working loads (SWL)
Blue Wave recommends that safe workloads should not to exceed one fifth (1/5) of the break loads listed.
How to avoid pitting corrosion
The best way to maintain stainless steel fittings from being affected by pitting corrosion is by rinsing them with fresh water. Especially mentionable when it hasn't rained for a while!
A major factor in this is time. The longer the salty liquid stays, the more aggressive/quicker the reaction will be.
For more information about and a full product range, please go to the official website: www.bluewave.dk. For product pricing and stock availability please call +852 2827 5876 or contact us.