Bainbridge Sailcloth Cool Bag – Tan 30L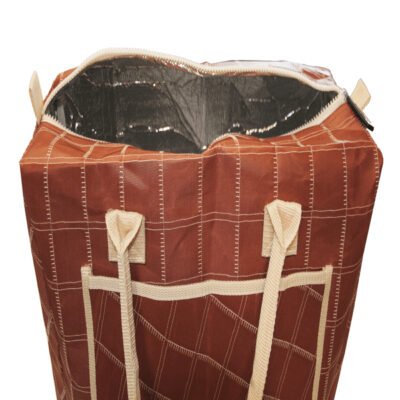 Leave the big, heavy coolbox at home… Bainbridge's insulated Sailcloth Cool Bag is large enough to hold food, drinks and ice for the day. Much lighter and easier to carry, while being more fashionable than that plastic "tank" you've been using.
This classic tan coloured bag design is perfect for boating, beach, or picnics, with more than enough space for food, drinks as well as ice or frozen packs. Makes a great frozen food shopping bag for those of us who prefer not to use nasty plastic bags!
Sailcloth Cool Bag Features
Keeps drink cold up to 24 hours.
Protects contents from dust, sand, dirt and water
Made from high quality Bainbridge tan sailcloth
Thermal insulating core keeping contents ice cold for many hours
Top carry handles
Ideal for shopping as well as outings
Size
Capacity: 30L
Dimensions: 50 x 16 x 38cm
For product pricing and stock availability please call +852 2827 5876 or contact us.
About Bainbridge
Founded in 1917 as Howe and Bainbridge, Bainbridge International is one of the longest established sailcloth manufacturers in the world with over 85 years experience in developing and manufacturing sailcloth. Originally the business served commercial sailing ships, supplying sailcloth for traditional sailing vessels. Over the years, they became progressively more focussed on the needs of the leisure sailing market, but also diversified into many other none marine markets.
In more recent times Bainbridge have expanded their manufacturing to clothing and bags, making use of their high quality sailcloth as well as marine industry knowledge.