Bainbridge Sailcloth Tote Bag – 12L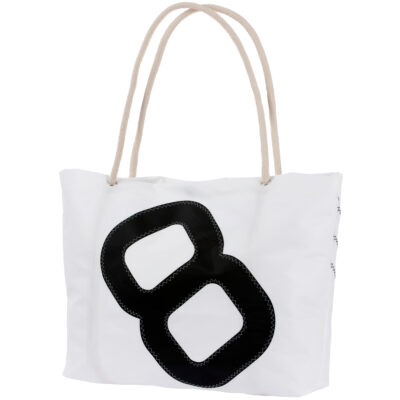 Bainbridge's ladies Sailcloth Tote Bag is the perfect size for shopping or going to the beach. The soft rope handles are just the perfect length to fit comfortably over your shoulder or down by your side and the nautical design is stylish and also always on trend. The integral rope handles go under the bag for extra durability, so you can confidently fill it up with goodies!
These bags are made out of the finest Bainbridge white coloured sailcloth and complimented with a soft cream coloured lining. An internal zipped pocket comes in handy for storing keys, phones and also cards and money.
Sailcloth Tote Bag Features
Made from genuine Bainbridge Ocean woven sailcloth
Red, blue or black original insignia sail numbers
Durable design
Splashproof
Soft rope handles for comfort
Convenient size
interior zipped pockets
Size
Capacity: 12L
Dimensions: 40 x 30 cm
For product pricing and stock availability please call +852 2827 5876 or contact us.
About Bainbridge
Founded in 1917 as Howe and Bainbridge, Bainbridge International is one of the longest established sailcloth manufacturers in the world with over 85 years experience in developing and manufacturing sailcloth. Originally the business served commercial sailing ships, supplying sailcloth for traditional sailing vessels. Over the years, they became progressively more focussed on the needs of the leisure sailing market, but also diversified into many other none marine markets.
In more recent times Bainbridge have expanded their manufacturing to clothing and bags, making use of their high quality sailcloth as well as marine industry knowledge.