Bainbridge Sailcloth Barrel Bag – 24L Grey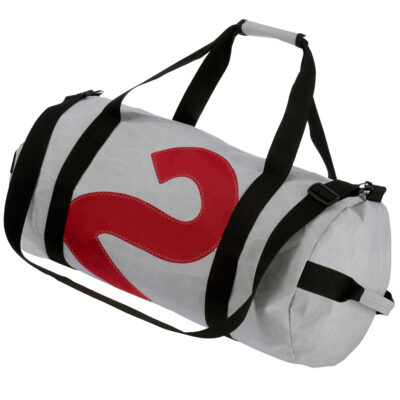 Manufactured from high quality grey polyester material, this sailcloth barrel bag is convenient as well as affordable. Great for carrying your kit and also stowing into lockers.
This classic "barrel" duffel design is perfect for boat, beach, or gym, with just the right amount of space for a change of clothes, shoes as well as many small necessities.
Larger sizes can be ordered in easily if 24L is not enough space! Or check out our other sized sailcloth bags.
Sailcloth Barrel Bag features
Made from genuine Bainbridge woven sailcloth
Each bag is unique / individual
Reinforced handles
Grab handle on the end
Splashproof
Available in other sizes of medium and large by order
Red, blue or black original insignia sail numbers
Shoulder strap not included for the small and medium bags
Size
Capacity: 24L
Dimensions: 50 x 25cm
For product pricing and stock availability please call +852 2827 5876 or contact us.
About Bainbridge
Founded in 1917 as Howe and Bainbridge, Bainbridge International is one of the longest established sailcloth manufacturers in the world with over 85 years experience in developing and manufacturing sailcloth. Originally the business served commercial sailing ships, supplying sailcloth for traditional sailing vessels. Over the years, they became progressively more focussed on the needs of the leisure sailing market, but also diversified into many other none marine markets.
In more recent times Bainbridge have expanded their manufacturing to clothing and bags, making use of their high quality sailcloth as well as marine industry knowledge.