Aquaglide Blackfoot Angler iSUP 11′ Inflatable SUP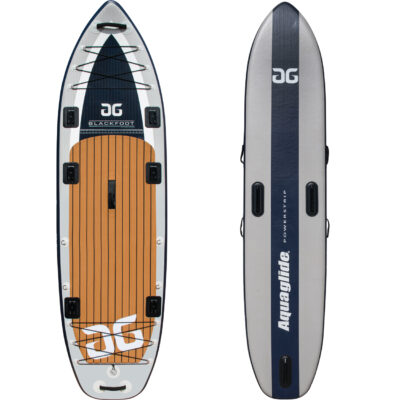 Named after the legendary Blackfoot River in Montana, the Blackfoot Angler iSUP 11′ is a fishing specific inflatable standup paddleboard. This iSUP caters for both casual fishing enthusiasts and also hardcore anglers.  It will effortlessly help you paddle to your secret fishing spot on your favorite river or likewise, that remote lake nestled in the woods.
With six Scotty® mounts within arms-reach, its possible to outfit the Blackfoot to tackle any angling mission on your wish list. D-rings in all the right places make strapping down a cooler or milk crate loaded with your tackle boxes a cinch. Stability isn't a concern given a 36″ width, allowing it to handle loads of up to 450lbs with ease. Industry leading stiffness, which is crucial for efficient paddling and casting, is forged through the use of premium grade drop-stitch combined with Powerstrip™ material. As an added bonus, the teak colored EVA top deck is designed with a special micro slitted texture to help with reduced slipping. Inflate the Blackfoot Angler iSUP board to 14 – 18 psi for optimum performance.
In addition, Aquaglide use the US finbox system which allows you to change out or replace the fin by visiting the first paddle store you see. When finished, simply deflate, roll up, slide it into its backpack and throw it in the backseat or trunk.  This feature-rich board is the ideal paddling platform for the active angler or anyone looking for a great inflatable paddle board that can occasionally act as a fishing platform.
Features
Removable tracking fin/fin box for increased performance
Thicker 150mm drop-stitch material
Bungee deck lacing for attaching gear on bow and stern
Six integrated mount plates to attach Scotty gear*
Multiple d-rings
Durable vented carrying backpack
Front ruler for measuring
High-pressure Bravo pump with pressure gauge.
EVA deckpad with micro-slitted texture
Three carry handles – front, rear and center
Single military valve inflation chamber
Item: 58-5216105
Capacity: 450 lbs. (204 kg)
Warranty: Limited 1 year
Specs: 11′ x 36″ x 6″ (3.35 m x 0.91 m x 0.15 m)
Scotty Mount Screw Specs: 1/4-20 x 7/8″ length – Round Head (use #304 or #316 stainless)
Weight: 28 lbs. (12,7 kg)
Volume: 60.8 Gallons, 230 L
Paddles, and other accessories not included
Box contains: Angler Inflatable SUP, Cascade Fin, Carry Bag, High Pressure Hand Pump and also a Repair kit.
*Please note: To use the Scotty mounts, you must purchase four after-market mounting screws per mount. These should be 1/4" x 20 thread (per in)  x 7/8" Stainless pan head. Do not use longer screws as they may puncture the kayak.
A larger twin iSUP in the Blackfoot Angler series is also available, the Blackfoot Angler 14′.
Furthermore, customers can also buy Aquaglide's High Pressure Pumps seperately.
We are here to help too, feel free to get in touch and we can help with pricing and details, please call +852 2827 5876 or use our contact page.
We order Aquaglide products direct from the manufacturer and not held in stock as they are specialised items and also take up a lot of storage space. More information about Aquaglide can be found on their website www.aquaglide .com