Albin 4″ Radial Ventilation Marine Air Blower – 500 Flange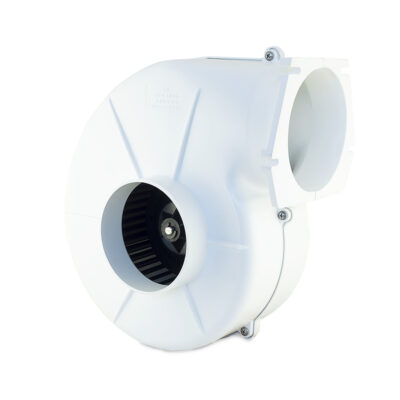 Radial marine air blower for ventilation of engine compartment and air extraction prior to start-up. Also great for bilge ventilation, galleys or any other compartment.
This 4″ flange mounted marine ventilation radial blower has a capacity of 500m3 per h (324CFM). Built with a tough body in hermoplastic PA6 high durable white Nylon with integrated blower motor. Operates in a 12V circuit with a 12A fuse.
Interchangeable with Jabsco 35760-0092, Johnson Pump 80-47417-01.
Air blowers cover a wide range of ventilation needs and are suitable for almost any installation situation. Engine compartment air extraction prior to startup, bilge ventilation, galleys or any other compartment. In-line, flange as well as flex mount compact design with motor integrated in center of blower. Double ball bearings with a high impact thermoplastic body and also solid durable assembly surfaces.
Features
Weight: 2.4kg/5lb
Flange or flex mount
Compact design with motor integrated in center of blower
Double ball bearings
High impact thermoplastic PA6 highly durable white Nylon body
Solid, durable assembly surfaces
Part No.
Capacity

Connections

Voltage
Fuse
Dimensions WxDxH
Replaces

10-02-003
500m³ / h
(324ft³ / min)
Inlet: Ø 100 mm (4″)
Outlet: 146 x 118 mm (5.8 x 4.7″)
12V
12A
290 x 257 x 150mm
(11.4 x 10.1 x 5.9″)
Johnson Pump 80-47417-01
Jabsco 35760-0092
Please go to the official Albin Pump Marine site www.albinpumpmarine.com to see the full range of options and extras. We are here to help too, feel free to get in touch and we can help with pricing and also details, please call +852 2827 5876 or use our contact page.
Albin Pump Marine offers an extensive range of pumps and pump solutions for improved comfort and safety onboard. They develop their products in Sweden while manufacturing with partners around the world.
Albin Pump Marine's embrace of digital development, modern manufacturing technology and a global on-line presence, ensures greater flexibility and greater speed to market than ever before known in the industry.