Albin Bilge Pump Float Switch For 12/24/30V Circuits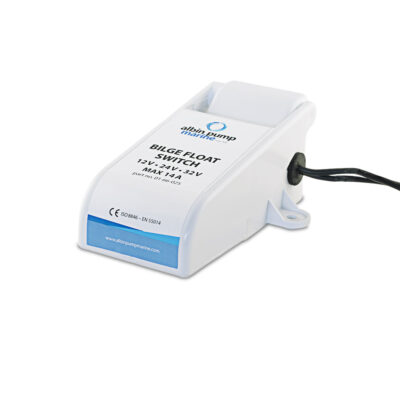 Automate your electric bilge pump simply and effectively with an Albin Automatic Bilge Pump Float Switch. Safely remove bilge water, even when no one is onboard. Mechanical arm floats up with rising water level in the bilge and completes the circuit, activating your bilge pump. As the water level lowers the arm lowers and deactivates the pump.
Approved for 500 000 cycles. Max 14A. Works on all 12/24/30V circuits. Made from tough ABS housing which is the same material as the pumps themselves.
Features
Weight: 0.13kg/.25Lb
Compact, all-in-one unit
Rated for 500,000 cycles
Durable thermoplastic ABS housing
Mercury-free operation
For salt and fresh water use only
Works on all 12/24/30V circuits
Part No.
Service Life

Voltage
Pump Power Draw
Dimensions WxDxH
01-66-025
500,000 Cycles
12/24/30V
Max 14A
110 x 70 x 50mm
(4.3 x 2.8 x 2″)
Please go to the official Albin Pump Marine site www.albinpumpmarine.com to see the full range of options and extras. We are here to help too, feel free to get in touch and we can help with pricing and also details, please call +852 2827 5876 or use our contact page.
Albin Pump Marine offers an extensive range of pumps and pump solutions for improved comfort and safety onboard. They develop their products in Sweden while manufacturing with partners around the world.
Albin Pump Marine's embrace of digital development, modern manufacturing technology and a global on-line presence, ensures greater flexibility and greater speed to market than ever before known in the industry.