New Product – OceanFlex Cables
Tinned Copper Marine Grade Electrical Wires
OceanFlex is a tinned thin wall low voltage wiring cable designed for use in tough places. The copper strands are tin plated making this marine grade cable more resistant to corrosion. These cables overcome the effects of corrosion and the harsh environment of salt water.
The OceanFlex Cable Range
Sky International now stock a number of wire options. You can purchase 1.5mm, 2.5mm and 4mm single core cables in either red or black as well as 1.5mm and 2.5mm twin core wires consisting of red and black wires insulated in a flat black cover.
To top off the collection minireels in various colours are also available. These pocket sized reels come in 1.5mm x 10m and 2.5mm x 5m lengths.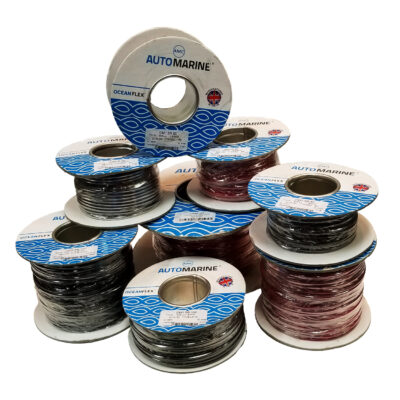 Wire Features
Cores manufactured to ISO 6722-1:2011 (class B) 105°C
1.5mm2 single core wire
Tinned Copper Conductors, PVC insulated
Suitable for use at temperatures from -40ºC to 105ºC with excursions up to 120ºC
Twins and multicore PVC sheathed at 70ºC
Suitable for 12v and 24v systems (maximum 60v)
Good resistance to petrol, diesel, lubricating oils and diluted acid
Very good resistance to moisture
PVC insulation saves weight and offers good resistance to abrasion and cut through
Cables printed with the specification on the insulation
You can see what Sky stocks here. For more information go to the Auto Marine website and check out their OceanFlex section.