The Elements of Boat Strength: For Builders, Designers, and Owners
By Dave Gerr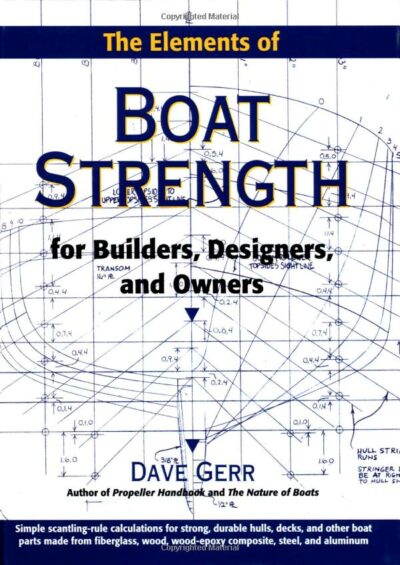 Acclaimed author and naval architect Dave Gerr created this unique system of easy-to-use scantling rules and rules-of-thumb for calculating the necessary dimensions, or scantlings, of hulls, decks, and other boat parts. Whether built of fiberglass, wood, wood-epoxy composite, steel, or aluminum. In addition to the rules themselves, The Elements of Boat Strength offers their context: an in-depth, plain-English discussion of boatbuilding materials, methods, and practices that will guide you through all aspects of boat construction.
Now you can avoid wading through dense technical engineering manuals or tackling advanced mathematics. The Elements of Boat Strength has all the formulas, tables, illustrations, and charts you need. They allow you to judge how heavy each piece of your boat should be in order to last and be safe. With this book, a calculator and a pad of paper, you'll be able to design and specify all the components necessary to build a sound, long-lasting vessel.
Yachts Features
ISBN: 978-0070231597
Format: Hardback
Pages: 384
Size: 7.3 x 0.9 x 9.5 inches
Published: 1999
About the Author
Dave Gerr is the director of the Westlawn Institute of Marine Technology. Westlawn being the oldest school of small-craft design in the United States. Since 1983 he has been principal of Gerr Marine Inc, which designs yachts and commercial vessels, both mono and multihull.
For product pricing and also stock availability please call +852 2827 5876 or contact us.
We at Sky International deeply value our range of sailing books as they are not only useful but potentially lifesaving. When you are aboard without wifi and something needs fixing or you have forgotten how to gybe properly, good old books can help!
Though now out of print, this book was published by Bloomsbury.