Spinlock EJ Tiller Extension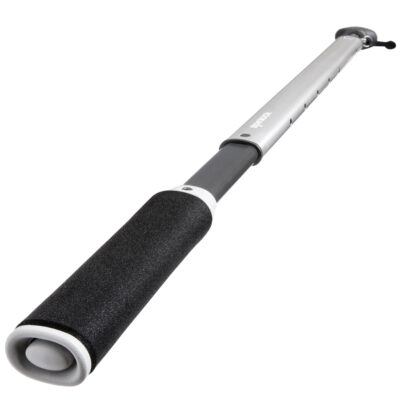 The Spinlock EJ Tiller Extension is a great compact extension for competitive helming. Straight handled racket grip telescopic extensions in four standard lengths. Can also be switched to an Asymmetric handle specification. The Diablo version is especially relevant to singlehanded yachtsmen. Furthermore, the windsurfing style universal joint returns it to a vertical position when not in use.
Four striking colour-ways give the user plenty of options to choose a tiller extension that either stands out or blends in with the crew and cockpit.
Spinlock EJ Tiller Extension Features
The compact solution for the smaller cockpit
Ideal for hiking and fast tacking
Push button adjustment with Torlon ball locking mechanism
Strong stainless steel swivel joint for precise control
Integral shock absorber
EJ Grip can be upgraded to Asymetric handle specification or visa versa with EA-HDL or EJ-HDL simply by removing two socket screws
Available in Silver, Amber, Bronze and Citrus colours
Specifications
EJ/900
Length: 600mm (23 5/8″)
Extended Length: 900mm (35 7/16″)
EJ/1200
Length: 750mm (29 5/8″)
Extended Length: 1200mm (47 1/4″)
EJ/1600
Length: 950mm (37 13/32″)
Extended Length: 1600mm (63″)

EJ/2000
Length: 1350mm (5/32″)
Extended Length: 2000mm (78 3/8″)
Weight & Fasteners
EJ/900 – 445g (15.6oz)
EJ/1200 – 510g (17.9oz)
EJ/1600 – 780g (27.5oz)
EJ/2000 – 865g (30.5oz)
Fasteners
2 x M5 (3/16″) CSK Supplied
For more information about and a full product range, please go to the official Spinlock website: www.spinlock.co.uk