Proboat Shroud Cover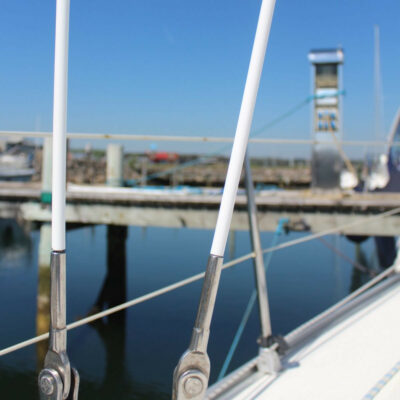 A snap-on split cable/shroud cover. Made from UV resistant plastic.
UV resistant shroud covers that protect sails and clothing against wear and tear. Each cable cover tube is split on the long side for easy mounting and offers great protection of sails, sheets and clothing.
These snap-on covers are designed to fit specific wire diameters for the vinyl covered look and feel, but can be removed to routinely rinse and inspect the cable. The UV resistant plastic stands up to exposure and provides a longer life. Protect your sails, clothes and also hands but retain the ability to rinse and inspect your rigging.
These shroud covers are supplied in 1.8M lengths and in 8 different diameters ranging from 3mm up to 12mm. Each size has its own colour marking on the ends for easy identification. Sky stock the 5 and 6mm sizes but others can be ordered.
Product Features
High quality UV resistant plastic
Quick to install split design
Coloured ends for easy size identification
Protects sails, clothes and also hands from chafing against bare cables
Can be removed for routine cleaning and inspections
1.8m long
Sky stock 5mm and 6mm diameter sizes
Part
Wire
Dia mm
Colour
Marker
ED-SC252
2 – 3
Purple
ED-SC253
4
White
ED-SC254
5
Blue
ED-SC255
6
Red
ED-SC255-A
7
Yellow
ED-SC256
8
Black
ED-SC257
10
Green
ED-SC258
12
Orange
For more information about and a full product range, please go to the official website: www.proboat.co.uk. For product pricing and also stock availability please call +852 2827 5876 or contact us.