Blundell Harling Portland Course Plotter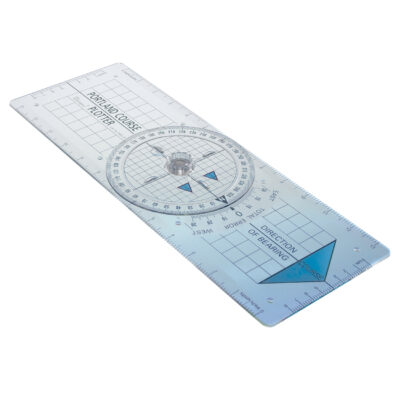 This popular Portland Course Plotter, based on the original Breton version, makes navigating much easier as it can calculate bearings quickly and accurately. gives courses and tidal information without having to move across a chart by using the rotating compass rose in the center of the plotter. In addition it is easy to use in cramped and rough conditions.
Course Plotter Features
Used worldwide by practical and shore based instructors
Bright blue directional arrow prevents accidental reciprocal bearings
Graduated edges for tide and boat speed
Base has a fixed grid so it is easy to plot latitude from your GPS system
Comprehensive instructions included
Size: 14"x 5″
This plotter is also available in a kit along with a 7″ divider. This makes a great set for keeping on board or for using in  various courses.
Navigational products manufactured by Blundell Harling Ltd.
The 'Portland' range of navigational products is manufactured by Blundell Harling Ltd in Weymouth, Dorset. The Portland course plotter was designed in partnership with the RYA. As a result, the RYA recommends the Portland course plotter for use on its training courses. Used with Imray and Admiralty charts to learn to plot accurate courses and work out bearings. Blundell Harling also supplies solid brass chart dividers for use with the plotters. The solid brass dividers come in a choice of single handed (SH) or straight, 175mm/7″ or 200mm/8″. The leisure marine industry uses the Portland course plotter and solid brass chart dividers as a manual backup in the event of electronic chart failure on yachts and motorboats.
Furthermore, Blundell Harling manufactures and supplies a range of products including protractors, Portland triangles, STD calculators, and parallel rules to the commercial shipping industry Worldwide.
For more information on this and other products from Blundell Harling please go to their website here www.blundellharling.com. For pricing and also stock availability please contact us.