Optimum Time OS1231R Rechargeable Sailing Watch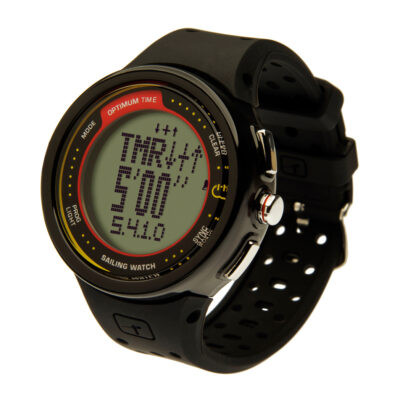 For those who want something cool while also being practical, we present the Optimum Time OS1231R. This watch has been upgraded from its already popular set of features to now being rechargeable via USB. Above all the watch features a dot matrix display that allows for more information at any one time. Furthermore, the sailing countdown in the last-minute has enormous digits that fill the display. Another aspect is the good looking case with a comfortable silicon rubber strap.
Optimum Time OS1231R Features
Black ABS case with removable silicon strap
Heavy-duty polished stainless steel buckle
Large 39mm viewing area
Round 28mm diameter display size
New high contrast dot matrix display – 3 row
Large 9mm digits in normal mode
Massive 19mm digits for final 59 seconds
3 Row display to show time and timer together
Soft Silicon Strap for maximum comfort
Water Resistant to 5 ATM
Shock Resistant Construction
Normal Timekeeping Mode (12 or 24 hour)
Rechargeable Lithium Ion Battery
Convenient USB Charging
Specialist Sailing Timer Functions
Increased digit height in sailing countdown functions
Countdown Repeat option or
Countdown and Up to show elapsed time for handicap races
5,4,1,0 ISAF start sequence pre-programmed with audible warning signals (can also be silenced if preferred)
5 minute and 3 minute pre-programmed options
User selectable 1 minute periods – ideal for match racing
"Sync Button". The famous Optimum Time invention to quickly get back to Race time if the gun is missed
Count-up from zero if required to time a match
Electro-luminescence backlight feature
Check out the full range of sailing watches from Optimum Time here: www.optimumtime.com. For product pricing and also stock availability please call +852 2827 5876 or contact us.