Learn to Navigate – 3rd Edition – An Introduction For All Ages
By Basil Mosenthal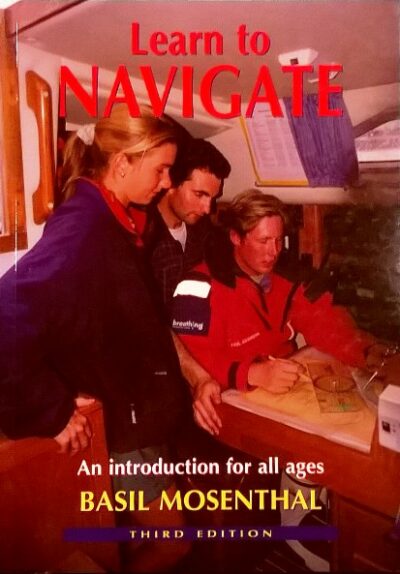 Learn to Navigate has been the bestselling introduction to navigation for almost 20 years. With its refreshingly new approach, it introduces the basics in non-technical language, and takes the reader through each step with explanatory illustrations, chart extracts, screenshots and photographs. It is the ideal handbook for anyone wanting to learn the elements of navigation and how to put them into practice on the water.
Developments in electronic charts have changed the way people navigate, and this 3rd edition has been revised and updated to take that into account, equipping readers with both the traditional and modern skills they need to work out where they are and where they want to go. Brief and user-friendly, this non-scary guide covers:
The essentials of reading a chart (paper and electronic)
Understanding tides
Using traditional and electronic navigation instruments
Plotting a position and planning a passage, both on paper and using a chartplotter
Navigation can be a daunting subject, but this introduction brings it to life and shows that boaters of all ages can grasp the basics.
Features
ISBN: 9780713661514
Format: Paperback
Pages: 80
Published: 2001
About the Author
For almost all his life, Basil Mosenthal has sailed all over the world. The author of several bestselling books for Adlard Coles Nautical, he has a talent for explaining, very simply, subjects that may at first seem rather complicated. Recent books include Young Sailor, Learn to Navigate, Learning the Rule of the Road, The Powerboater's Guide, Learning to Crew, Getting Afloat, Test Yourself on the Rule of the Road.
For product pricing and also stock availability please call +852 2827 5876 or contact us.
We at Sky International deeply value our range of sailing books as they are not only useful but potentially lifesaving. When you are abourd without wifi and something needs fixing or you have forgotten how to gybe properly good old books can help!
Though now out of print, this book was published by Bloomsbury.