Kaenon Clarke Sunglasses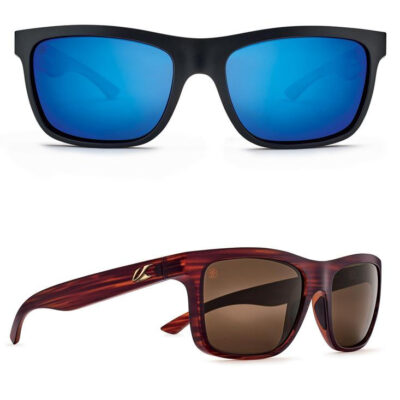 The Kaenon Clarke brings forward a fresh wave of style and street cred. An easy fit for a broad range of face and head shapes, this 6 base frame, with retro-inspired styling, puts simplicity on a pedestal. The Kaenon Clarke design and fit is reminiscent of mid-century modern style and is also ideal for men and women. Broad spectrum UV protection, impact-protection as well as unmatched clarity are offered through Kaenon's proprietary SR-91® lens.
Variflex™ nose pads offer additional comfort making these sunnies equally at home on the street, water, golf course, or wherever your pursuits may lead. Broad spectrum UV protection, impact-protection and also unmatched clarity are offered through Kaenon's proprietary SR-91 lens.
Kaenon Clarke Features
Frame Material: Lightweight, flexible TR-90 frame material
Frame Finish: Hand painted, matte or gloss
Lens Base Curve: 6 base curve
Hinge: Premium, 5 barrel stainless steel hinge
Lens Material: Kaenon SR-91® Polarized Lens
Lens Tints: G12 (Black Label Mirror), Pacific Blue and Brown
Polarized: Yes
Face Size: Medium to full
Gender: Unisex
Weight: 30g
Nose Pads: Hypoallergenic Recessed Variflex™ Nose Pads
Recommended Use: Casual, sport, Sailing
Designed in California, Made in Italy
Check out the full range of sunglasses and frames from Kaenon here: www.kaenon.com. Or feel free to Contact Us.
Kaenon's SR-91 Lens
Kaenon introduced SR-91 as the answer to all of the shortcomings of existing lens materials. Glass is heavy and shatters, CR-39 is brittle and not impact-resistant, while polycarbonate offers a dull view and scratches easily. SR-91 was tested in independent labs and also validated by the world's top athletes and adventurers as the only lens offering razor-sharp clarity and impact-resistance. As a result, an all in one ultra-lightweight, durable lens. Kaenon's high-performance SR-91 lens comes standard in all the sunglasses they make.
Mirrored Lenses
Many of the Kaenon sunglasses are available with a mirror coating on certain colours. Mirror coatings are suitable for protection from intense light. A mirror coating reflects back light and also reduces the amount of light passing through the lens. Consequently this makes it more comfortable for eyes in very sunny conditions.
Polarized Lenses
Almost all Kaenon sunglasses are available with polarized lenses. Polarized lenses have a filter within the lens that blocks the wavelengths of light that cause glare. They can greatly enhance contrast as well as allow for greater depth of vision, especially in water. Furthermore, they are ideal for any situation where glare reduction is necessary, like driving or playing sports.
About Kaenon
Kaenon's founders were inspired to develop a new, proprietary lens technology and marry it with unique frame styles and colour treatments to create a brand new breed of sunglasses. This fresh approach to eyewear was quickly adopted by world class athletes who played every sport from golf to fishing and especially from sailing. Kaenon sunglasses are infused with both comfort and style, and this made Kaenon the go-to brand for sunglasses that work as both a sport performance and a lifestyle accessory. Designed in Newport Beach and hand-painted in Italy, Kaenon embodies a commitment to craftsmanship and also quality that blends style and comfort with pure performance.