Renegades At Sea – The Adventures of Chas from Tas
Chas's first book describing his sailing adventures from around the world!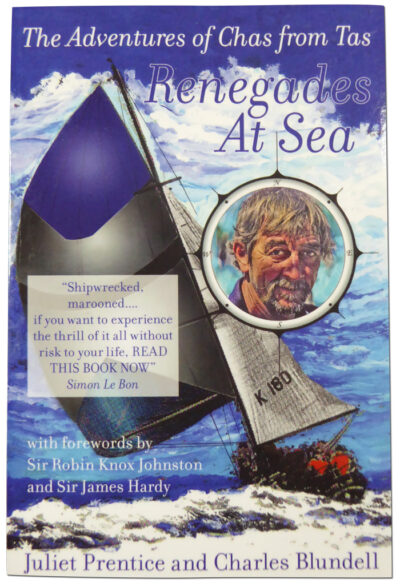 Chas from Tas has sailed more miles than one and a half times to the moon and back, and is the record holder of some legendary sea-faring adventures. The voyages he has made, some of them considered too dangerous for any man in his right mind to embark on, are famous in the sailing world, as is the man himself. He is known the world over by thousands, from sailing champions to many others from all walks of life, from Sarah Churchill to the King of Norway, to the late, great Peter Ustinov.
This is the first volume in a three book series of the much requested memoirs of Chas from Tas, recounting adventures from the early days of his career and spanning five decades. His chronicles record vivid accounts of the major blue water classic ocean races, ocean voyages across the globe, comradeship and many a humorous escapade when ashore.
"How often do we hear people say that you don't find characters today the way you used to. Well, Chas from Tas proves that they still exist! He is one of the unsung heroes of yachting who sailed with the best. For those of you that want to know what goes on behind the scenes, this is the sort of book that shows you how it really is, in life as in sailing. There is no better Fellow Rover than Chas from Tas" – Sir Robin Knox Johnston.
"Shipwrecked! Marooned! I know from personal experience that sailing with Chas from Tas can be a dangerous undertaking. If you want experience the thrill of it all without risk to your life READ THIS BOOK NOW" – Simon Le Bon.
About Chas From Tas
Charles Blundell, alias 'Chas from Tas', was born in Devon and descended from Sir Francis Drake. His family emigrated to Tasmania where he went to the same school as Errol Flynn and was introduced to sailing. In his four decades at sea, he has worked on commercial fishing boats, ocean mining, exploration vessels, and a reef diving submarine. He was one of the last of the celestial navigators and has raced on teams for the United States, Great Britain, Sweden, Hong Kong, Brazil and New Zealand in high profile yachting events. He has covered well over five hundred thousand nautical miles at sea, survived everything from typhoons to pirate attacks, is the record holder of some of the greatest sea-faring adventures in modern times, and is a legend in the yachting world. He spend twenty years sailing the China Seas and has not lived in one country for more than six months in thirty years, until moving to Australia ten years ago to write his memories. It's been a remarkable life, so it took a long time to write.