Bainbridge Sailcloth Jacket – SALE, 20% Off Original Price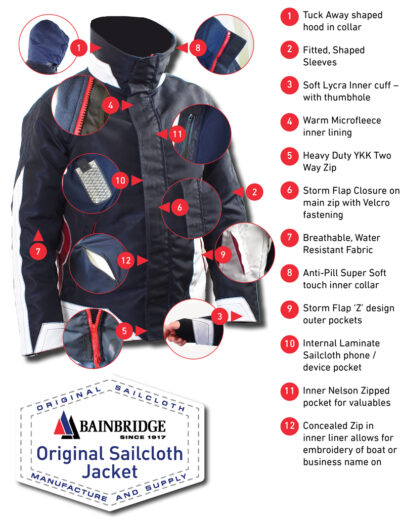 Made from Bainbridge's own brand of high quality cloths, these sailcloth jackets are maybe the ultimate in nautical and stylish fashion. While not wholly waterproof for offshore sailing the jackets are warm and hold off most winds and rain. With a tuck away hood, high collars and Lycra cuffs with thumb holes the Bainbridge Sailcloth Jacket works well for coastal cruising as well as being outside when the temperature drops. In addition, storage of the jacket is made easy as it comes with a matching sailcloth holdall.
A range of sizes of the Navy Blue colour are stocked while the white colour can be ordered in easily.
Jacket Features
Colourways – Navy with white detailing or White with navy detailing.
Improved comfort
Good fit and flexibility
Original Bainbridge sailcloth
Water repellent & stain resistant
Tuck away hood
Warm micro fleece inner lining
Genuine red sail insignia and detailing
Supplied in matching sailcloth deluxe holdall
These jackets are now on SALE and have a discount of 20% off the original price. Sizes may be limited so please contact us for stock availability.
For product pricing and also stock availability please call +852 2827 5876 or contact us. For more information on Bainbridge International please go to www.bainbridgeint.com