Autonautic DEG Weather Station – SALE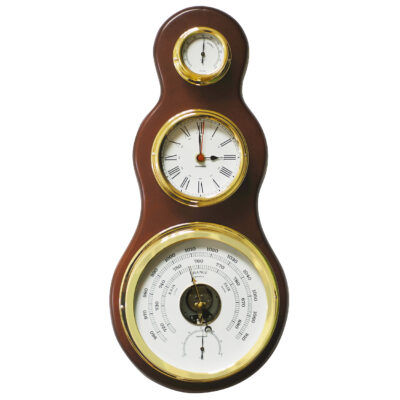 This elegant and luxurious Autonautic Weather Station boasts a barometer, thermometer, clock and also hygrometer. A quality wooden plinth provides a beautiful finish for the instruments of varying dimensions.
The Autonautic DEG Weather Station is perfect for any boater or outdoorsman who wants to monitor the weather at a glance. This functional yet attractive set gives the user three essential elements in the weather equation: air pressure, air temperature and relative humidity as well as the time of day.
The wooden plinth measures 230x480mm. You can be mount it on a wall in the home, office or also the bulkhead of a boat.
A significant benefit of these instruments is that the gold plated finish is also lacquered to ensure a much more durable and long lasting appearance is achieved.
Product Features
Includes thermometer, barometer, hygrometer and also quartz clock
Dimensions: 480 x 230mm
Case finish: 24 carat gold plated
The Autonautic DEG Weather Station is made from the B200D Barometer, R120D Clock and H95D Hygrometer
This product is on SALE with 10% off retail price
Check out the full range of Autonautic barometers and time pieces here: www.autonauticinstrumental.com. For product pricing and also stock availability please call +852 2827 5876 or contact us.